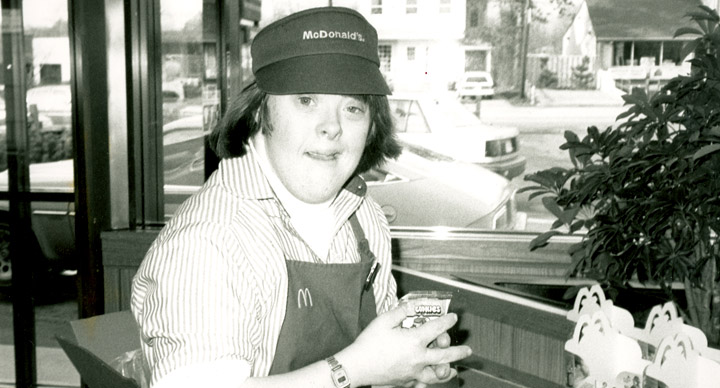 Freia David, with Down's Syndrome, had been working at a McDonald's restaurant in Massachusetts for the past 32 years. She is such a lovable human being that her employers could not but throw a farewell party for her when she retired at age 52.
Freia, pronounced Fry-a, mainly worked at the fry station – call it an act of serendipity.
McDonald's threw a party for their long-serving employee, with over 100 family, friends and colleagues attending. Soon, Freia's story also spread around the entire world, inspiring people about how, despite disabilities, one can be great at their job and win so many hearts.
McDonald's also showered her with gifts: there were cakes, cards and photo collages, as well as a silver necklace with a McDonald's French fries carton pendant. There were also her favourite Disney stuffed animals and a proclamation from the State House of Representatives. Any customer who walked into the restaurant, decorated with balloons, also got a free, small order of fries, in David's honour.
After the party, Freia said, "It was nice, I'm really happy! I like all my friends here."
Freia's job at McDonald's was "her life", her mother told Boston Globe. She worked five shifts a week, arriving an hour early, and sometimes even dancing in front of the fry station in anticipation. Even on her Saturdays off, Freia would come into the restaurant to eat lunch with her mom, giving her friends high-fives and hugs.
Read the full story here.