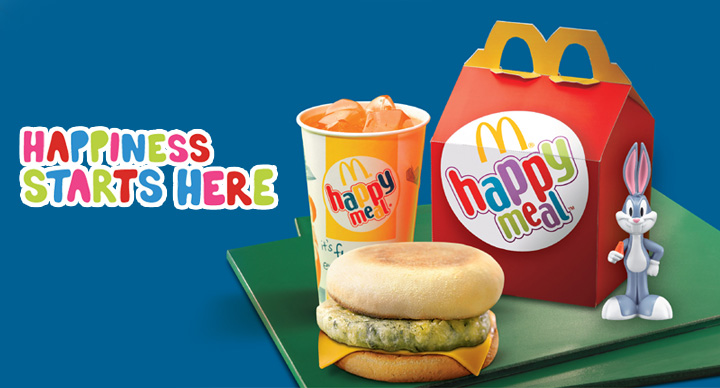 Yolanda Fernández de Cofiño started working at a McDonald's, in Guatemala with her husband in the mid 1970's. While serving at the restaurant she came up with an innovative idea which she called the "Menu Ronald". The Menu Ronald was a complete meal which consisted of a burger, small fries and a small sundae. The meal became very popular and word of it reached McDonald's management in Chicago.
To develop the concept further Bob Bernstein of Bernstein-Rein Advertising was called in. Bernstein improved upon the idea and packaged the meal in a box and so, the Happy Meal was born. In October 1977 the Happy Meal was introduced to the Kansas City market with television and radio features. The first Happy Meal had a circus-wagon inspired design and came with a burger, fries, cookies and a soft drink, although the most significant addition to the meal was a toy.
By 1979, McDonald's started tying-up with prominent franchises and popular characters started featuring in the Happy Meals. The Star Trek Happy Meal was the first to feature designs and toys from a popular franchise. Over the years the meal as well as the toys evolved. McDonald's started offering the McNuggets in place of the burger, apple sticks in place of the fries, and milk and juices in place of the soft drink. In some locations they also offered salads and dried fruit as part of the meal.
The toys became more elaborate and attracted kids as well as collectors from all over the world. David Bracken, the vice-president of the McDonald's Collectors Club started his collection in 1993 and has over 4500 Happy Meal toys.
On the 10th anniversary of the Happy Meal, McDonald's felicitated Bob Bernstein with a full size bronze replica of the Happy Meal.