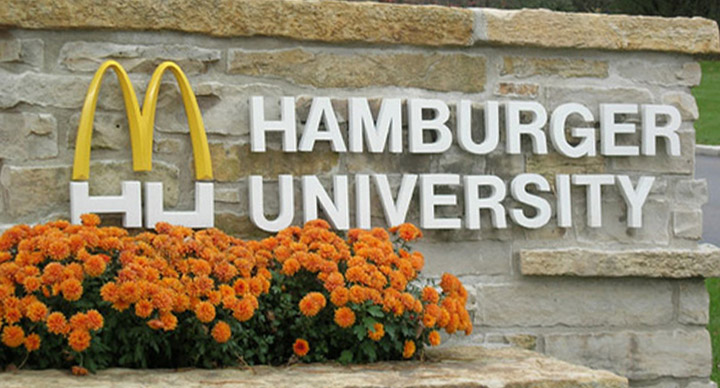 When you plan your next visit to a McDonald's restaurant, do make sure you catch the eye of the store manager there, to accord him or her some respect. That is because in addition to learning on the job, the chances are that he's been to Hamburger University. This University's headquarters are based in Chicago suburb, along with six other Hamburger Universities around the world, including the latest one in Shanghai (2010). Since its opening in 1961, over 330,000 managers from across the world received their honorary degree in Hamburgerology from the Universities. Teams from all around the world go to Thailand, Singapore, Malaysia and Philippines now for the Restaurant leadership program.
Overall, about 40% of McDonald's global leadership has attended the University. The training consists of the students being given a timeline to complete their tasks, which are as close as possible to what they might face while working at McDonald's. The tasks given to students are varied, with challenges that are meant to recapture their real life training. These include setting computerized roster sessions where they set the roster as per sales, labor and profit levels. Situations such as a box of French fries on the floor or an empty ketchup stand at the cash counter are all part of the challenges they face.
McDonald's has honed the science of churning out restaurant managers into a fine art, with employees coming from the McDonald's stream as well as managers from their franchisees.