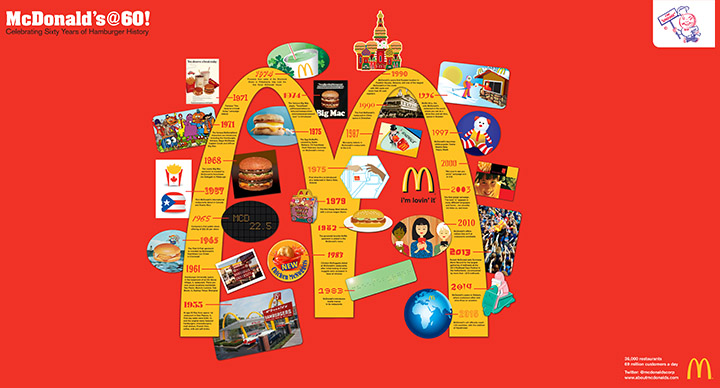 McDonald's has come a long way since selling burgers in 1940 to where it is today! As it successfully completes 60 years of its journey, we have compiled some fun and interesting facts about McDonald's for you to enjoy! Take a look at the events as they occurred chronologically.
1940 — McDonald's BBQ Opens (McDonald brothers founded the first McDonald's restaurant in California.)
1961 — Hamburger University opens in the basement of an Elk Grove Village, Illinois, restaurant.
1966 — Jay Leno, one of a number of famous McDonald's alumni, works at a restaurant in Andover, Massachusetts, until 1968.
1968 — Big Mac is launched by Jim Delligatti, a McDonald's owner and operator from Pittsburgh, Pennsylvania.
1968 — The McDonald's signature mansard roof design and Golden Arches logo debuts.
1975 — The first drive-thru is introduced at a restaurant in Sierra Vista, Arizona.
1979 — The Happy Meal rolls out with a circus wagon theme.
1983 — Chicken McNuggets debut on the menu. The iconic battered bites were almost going to be onion nuggets, but taste testers preferred chicken!
1996 —McSki-thru, the only McDonald's restaurant in the world where you can ski through the drive-thru opens in Sweden.
2003 — The first global campaign, "I'm lovin' it," appears in many different languages and forms such as "me encanta," and "Ichliebees."
2015 — McDonald's will officially reach 120 countries, with the addition of Kazakhstan.
Read more here.