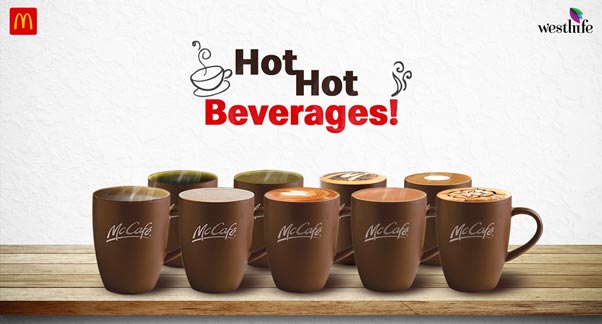 Snoozing the alarm, taking more minutes under the blanket, waking up just in time to catch the morning meeting, and sometimes getting late to brew the perfect morning cuppa coffee, it's all part of the season. We get it.
But hey, what's McCafé Hot Beverage Menu for? To make such and other moments worthwhile and bring in the sense of ease with indulgent items. We say there's no compromising on your cup of coffee and that is exactly why we've got the best hot coffee at McDonald's. Go ahead, and get slurping!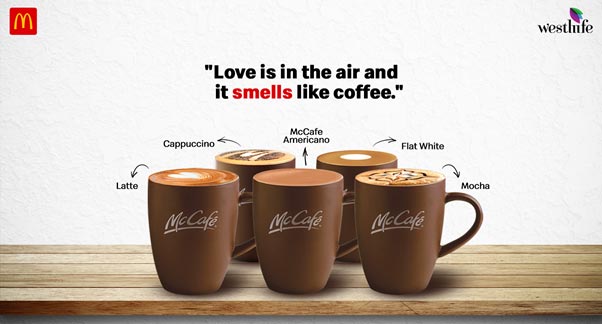 All it takes is a whiff of the steaming hot coffee to wake up the grey cells. The stimulating McDonald's coffee plays its charm in more ways than one. And before one knows it, you've already surrendered to its sensory play.
The aroma, the texture of the beverage, the temperature, each of it at McCafé leads to the moment of perfect indulgence. You can pick one of the best hot coffees at McDonald's or go back to the one you find comfort in. It's the day and mood of the hour that can lead your choice of indulgence.
Think about the bold cup of McCafé Americano, the warm shot of espresso made with a 100% Arabica beans, topped with milk that is steamed to a thick, perfect froth. Or McDonald's Latte that is made with our signature espresso, topped with 100% real milk, steamed and frothed. Then there's Mocha with the combination of well ground coffee beans and steamed milk, topped off with dark froth. And then you have, Flat White, our signature McCafé espresso, made with 100% Arabica beans, blended with steamed and slightly froth 100% real milk. There you go, already making your mind?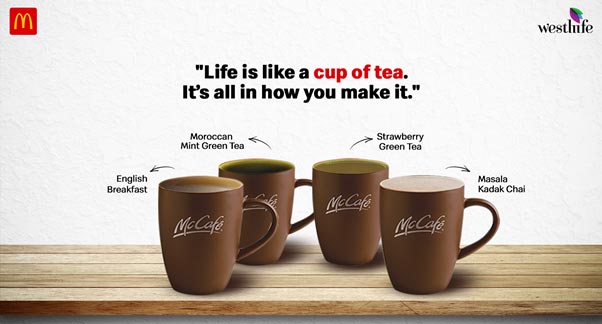 For those whose lives cannot move an inch without tea, you know we've got the best of the lot for you. We understand the love for tea and have the choicest of options for you. Wish to have the 'kadak' chai or something light and flavorful? We've got the Masala Kadak Chai, the traditional blend of black tea with the English Breakfast and the flavor packed, freshly brewed Strawberry Green Tea and Moroccan Mint Green Tea.
For those who would like a McCafé hot beverage without caffeine, we've got the sinfully indulgent Hot Chocolate and the immunity booster, Turmeric latte. Ask and you shall receive!
Are you planning to hop in at McDonald's McCafé? Or you could take your time to order on the McDelivery website or app for a contactless delivery. We say, keep it hot, keep it going!