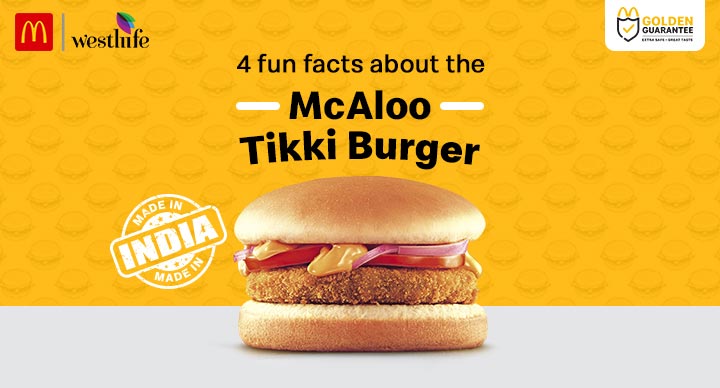 It's been 23 years since its launch, and it has ruled the McDonald's India bestseller lists and your hearts in equal measure.
That's because McDonald's McAloo Tikki Burger has been crafted to cater to every major Indian palate and preference. It's a truly "glocal" burger—local tastes and flavours put together using McDonald's globally renowned processes and techniques.
If you're a McDonald's fan, you surely have your own McAloo Tikki Burger story. (If you don't, order it now and get one for yourself!)
Let's make it more interesting by introducing you to 4 fun facts about your favourite burger. Prepare to be amazed!
It's McDonald's first made-in-India burger
When McDonald's arrived on Indian shores in 1996, the idea of tailoring an international menu to local tastes and palates was an alien one. That changed two years later, with the launch of this desi burger. Its runaway success underlined the power of combining Indian ingredients and cuisines with global cooking techniques, a practice that later also resulted in such McDonald's India superstars as the Chicken Kebab Burger, Chicken Chatpata Kebab Naan, McSpicy Paneer Burger, and the McSpicy Fried Chicken.
It's featured on international menus
The McAloo Tikki Burger's distinctness means even foreign travellers have to try it when they're in India. But did you know it has also been part of menus in Singapore and the USA? While the South East Asian country offered it in 2013, it was also a limited-edition item at McDonald's global headquarters restaurant in Chicago in 2018. Moreover, CNBC once used McDonald's McAloo Tikki Burger as an index of economic well-being, and Australian food sites have polled in favour of its inclusion in the Australian McDonald's menu. This burger has indeed gone places!
It's a balanced meal in itself
Made with fresh, wholesome ingredients, the McAloo Tikki Burger packs in the recommended amount of proteins, fats, and carbohydrates needed for a meal to qualify as a balanced one. There are 19gm of fresh vegetables (inclusive of potatoes and peas) in the patty, and the sodium content has been reduced by 10%. No artificial flavours, colours, or preservatives as well. The patty's dietary-fibre component makes it absorb less oil while frying. In short, the burger's a nourishing experience all the way!
Its ingredients come from various parts of India
McDonald's McAloo Tikki Burger is painstakingly assembled from myriad sources. The buns—even the Whole Wheat ones—come from some of Maharashtra's top bakeries, potatoes of the best Shepody variety are sourced from Gujarat, and the tomatoes are procured from the farms of western India. It's a burger as Indian as it can get.
Have these fun facts fueled your hunger for this global Indian burger? Head to your nearest McDonald's restaurant in that case, or order from the McDelivery website or app right away!