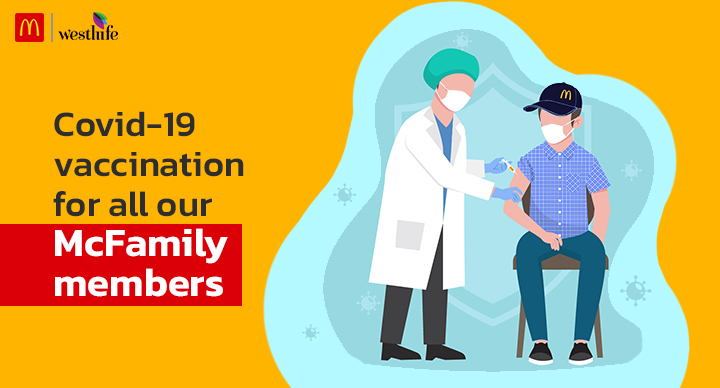 The Covid-19 pandemic, unfortunately, claimed and affected the lives of millions of people around the world. And, it's not even close to being over.
Although, good news and happiness graced our hearts when the news of the vaccine for Covid-19 came about and the drive for vaccination began.
In the wake of the current vaccination drives around the world, we at Westlife Development Ltd., the master franchisee of McDonald's restaurants in West and South India, instantly looked out for the safety and wellbeing of all our employees.
And, we have announced that we are covering the cost of Covid-19 vaccination for all our employees, even for the ones who are work with us part-time and the delivery riders. Because, it's not just the safety of our customers that is our priority, it's also our employees, our Mcfamily.
Here's what Namratha Mathur, Vice President – Human Resources, Westlife Development Ltd. had to say, "At Westlife, we take our responsibility as an employer and commitment to the society/community very seriously. Our employees are the backbone of our company and keeping them safe has always been top priority for us. We have undertaken various initiatives in this pandemic to safeguard the physical and mental wellbeing of our employees and this is yet another initiative to ensure their safety as well as a safe environment for our customers. We will continue to do whatever it takes to support them in getting through these challenging times and emerge stronger."
In the year 2020, when Covid-19 wreaked havoc, we took quick and possible measures to offer our employees the best quality of masks, gloves and sanitisers for their safety.
At McDonald's, we adhere to world-class standards of safety, and nothing less.
A thermal temperature check for each employee and customer is done as they enter our outlets, along with social distancing protocols. We also keep regular track of our employees' health status and their families as well, to avoid future health concerns.
For the well-being of our employees' mental health, we make sure they have flexible working hours, with timely shifts.
As we begin and accelerate our vaccination initiative to cover the costs of over 10,000+ employees, here's looking forward to maintaining the healthiest & safest of conditions at all our outlets. We'll see you around for your next McDonald's trip.