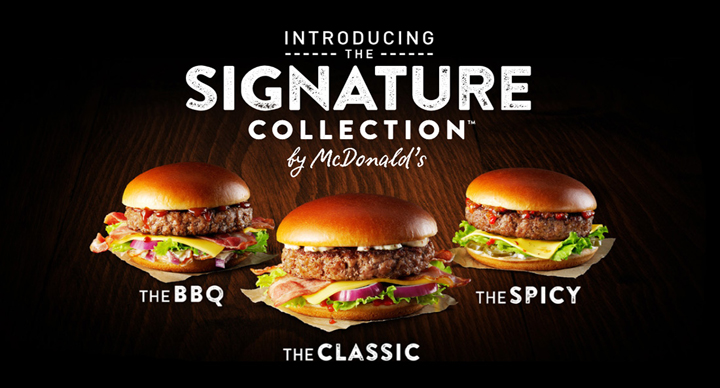 Flavors from the other side of the Atlantic have travelled over to create a unique twist in McDonald's, London's menu. The Signature Collection of burgers, a new initiative by McDonald's has hit the menus across the stores.
The Signature Collection of burgers has been launched in 28 restaurants and was created by McDonald's team of food specialists and their prestigious Chef's Council. The council is a team of chefs with a wide range of experience from Michelin starred restaurants to cooking for international royalty.
The range of burgers features the thickest ever patty sandwiched in brioche-style buns. The three burgers of this collection are:
• The Classic: This is the gourmet version of bacon cheeseburger with Beechwood smoked bacon, a slice of cheddar, wholegrain mustard mayo, Batavia lettuce and red onion.
• The BBQ: Featuring a smoky BBQ sauce paired up with fresh coleslaw, this burger offers a complete BBQ experience in every bite.
• The Spicy: Living upto its name, this burger has jalapeno slices, a spicy relish along with a slice of Pepper Jack cheese and lettuce.
Implementing customers feedback to design this range was fundamental. Duncan Cruttenden, Food Development Director at McDonald's says, "At McDonald's we are committed to listening to our customers and evolving our menu to offer something for everyone. When the Chef's Council started to develop this new premium offering, we worked with a brief generated by our customers – they told us they wanted thicker meat patties, high quality ingredients and freshly prepared. We've crafted a range that is a truly exciting permanent addition to our menu – every product has to earn a place on our menu and our customers have told us the Signature Collection has done just that."
A Customers 2020 report suggests that customer experience will overtake price and product as the key brand differentiator. With the ongoing 'Experience of the Future' transformation program, McDonald's is prioritizing to enhance menu and service experience in the UK. Along with new layouts and increased technology to the kitchens, restaurants in London are leveraging the new table service system.
The Signature Collection will be rolled out to 400 restaurants in the UK by next summer, becoming a permanent addition to the menu.