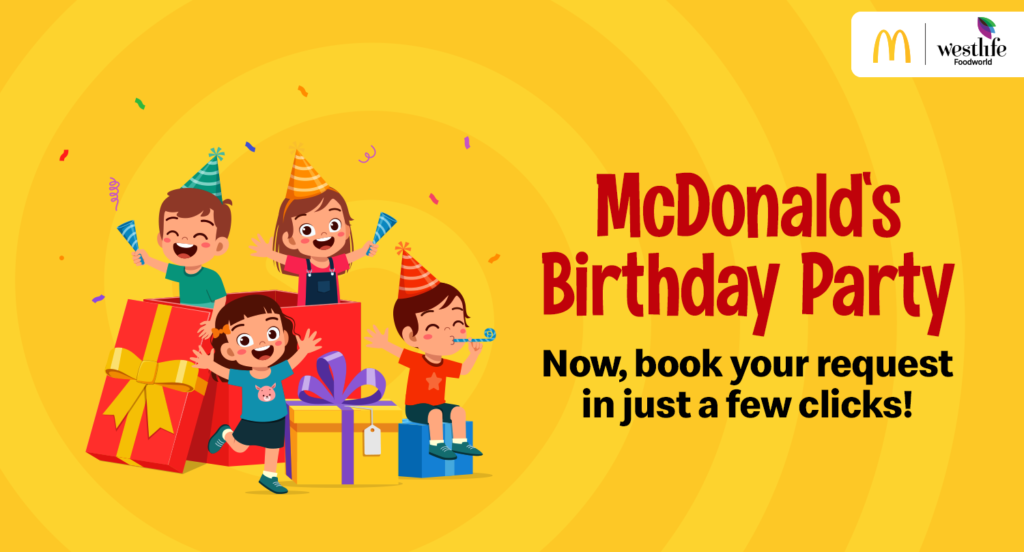 When it comes to birthday parties, McDonald's has been widely acclaimed for its delicious food and inviting atmosphere. With its ample space, cost-effective McDonald's birthday package options, various birthday themes and menu that caters to so many palates, McDonald's is a nation-wide favorite.
If you are invited to a McDonald's birthday party, you just know that it is going to be great fun. Starting with the good food, the zestful vibe, the mandatory photographs with Ronald McDonald, and the bespoke decorations, you are in for a wholesome experience. McDonald's is undoubtedly the ideal place for a children's party. With its Happy Meal® options, it is one of the very few places that has a child-friendly nutritious menu. It includes a filling McVeggie® Burger or McAloo Tikki Burger® or McEgg® Burger, or a McChicken® Burger with Sweet Corn, a preservative-free natural Mixed Fruit Beverage, and a Happy Readers Book.
With something for all and pocket-friendly McDonald's birthday package choices, a McDonald's birthday party is nothing less than reliving the good times. And you will be happy to know that now it is easier than ever! Gone are the days of looking up contact details or personal in-store inquiries. Yes, McDonald's has launched a new platform for booking birthday party requests that makes organizing a party at McDonald's a matter of a few clicks.
Take a look at just how easy the process is!
First, visit the McDonald's India website and click on the B'DAY PARTY tab.
Then, click on BOOK NOW and fill out:
Name and birth date of the birthday boy or girl
City and restaurant of your choice
Email address
Contact number
That's it; the restaurant manager will get in touch with you very soon. It's so simple, right?
You can also choose from a range of unique party themes, like 'Party in Space', 'Party in the Castle', and 'Safari Party'. The McDonald's birthday party package options are also available on the website.
McDonald's is more than a restaurant. It is an unforgettable experience with your family and friends. Whether you are organizing a McDonald's birthday party for kids or even an adult who wants to reminisce about the good old days of blissful childhood, McDonald's does not fail to deliver.
Be it a celebration or a quiet meal by yourself, you know where to be. Stop by your nearest McDonald's restaurant to relish a scrumptious meal. Or, you can always feel free to have your meals and Happy Meal® menu brought to you from the McDelivery® app or the McDelivery® website. For more exciting information, offers, and discounts on a birthday celebration at McDonald's and McDonald's birthday package, download the McDonald's app.