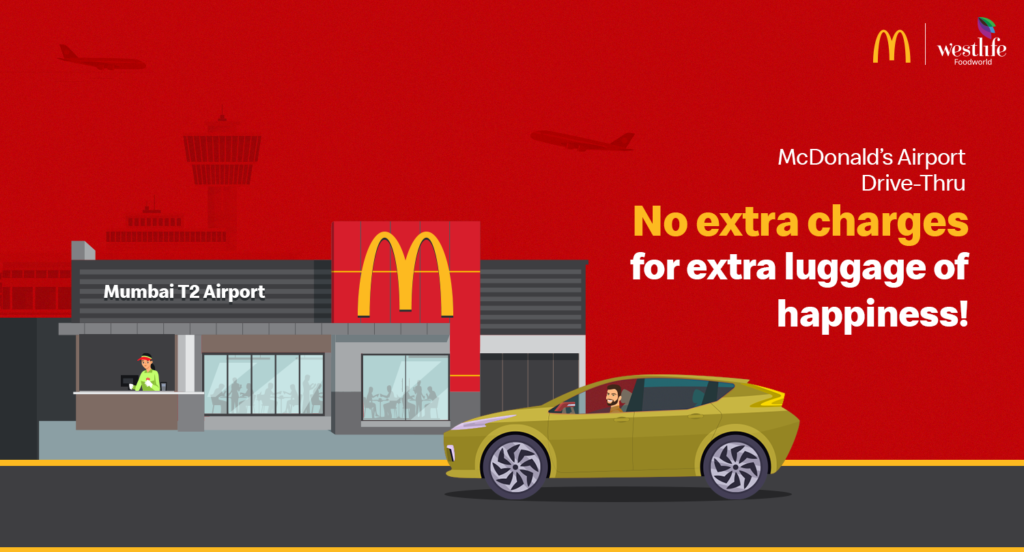 You must have experienced the McDonald's Drive-Thru as your preferred safe and hygienic stopover while on road trips. Or perhaps on a late-night drive with family and friends too. But now, fasten your seatbelts, because you are in for another amazing ride!
McDonald's India (West & South) is launching India's first-ever Airport Free Style Drive-Thru (FSDT) Restaurant in Mumbai. It is located only 100 meters from Terminal 2 (T2) of the Chhatrapati Shivaji Maharaj International Airport. And it also happens to be the very first McDonald's restaurant in Mumbai to run 24×7.
The McDonald's airport drive thru is estimated to cater to thousands and thousands of travelers in T2, airport staff, and local residents with prompt service and delicious food at airport throughout the day.
The brand new McDonald's drive thru is equipped with a number of brilliant features, offering customers an experience of the future.
Customers can order food at airport and have their meals on-the-go thanks to the Drive-Thru lane and Customer Ordering Display (COD).
As part of the McDonald's India Service Guarantee initiative, you can receive an instant order within 120 seconds.
The restaurant has installed 6-7 Self Ordering Kiosks (SOK) to provide customers with a quick, digital, and savvy ordering experience.
With free Wi-Fi, there is a deluxe, comfortable, and ample sitting area.
This breakthrough launch has reinforced McDonald's India as a leader in the food service industry.
Also, the McDonald's airport drive thru is Maharashtra's 145th McDonald's establishment. And Saurabh Kalra, MD, McDonald's India (W&S), said, "We are delighted to introduce India's first-ever Airport Drive-Thru Restaurant in Mumbai, a city that is always on the go. This innovative concept is a significant step toward our continuous commitment to enhancing customer experience, catering to their evolving needs, and offering them the best possible dining experience. This initiative also marks the beginning of a new chapter in our long-standing association with CSMIA. By combining convenience, speed, and quality, we aim to make our customers' journeys more enjoyable and stress-free. We are looking forward to expanding our presence not only in the MMR, but also in other strategic locations across West & South India, to make delicious feel-good moments easy for everyone." If you are a Mumbaikar or someone visiting the city soon, make sure to drop by the nation's first and only McDonald's drive-thru at the airport. There are so many yummy options for food at airport on the menu for you to relish, so hurry. You can also visit a McDonald's restaurant near you or order in from the McDelivery® app or McDelivery® website. For offers and deals on your meals, download the McDonald's app.