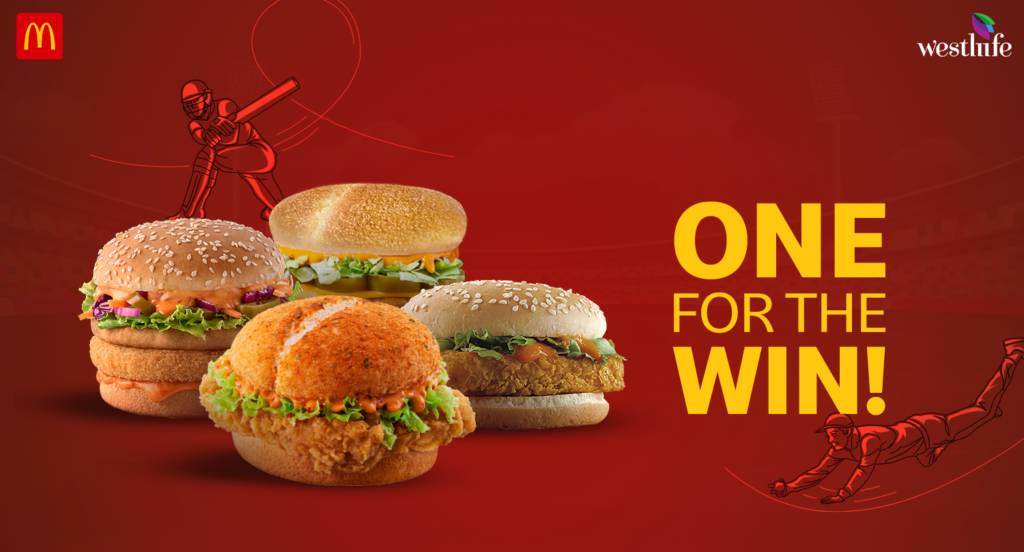 *Phones buzzing. *
*High chatter on BFF groups. *
*Memes are flooding in and out. *
Guess what…
Yes, it's planning the match day with the homies!
It can't get any more exciting than this. While planning get-togethers can be tricky, the fun and adrenalin rush that follows makes it all worth the effort! Anything for the BFFs, right?
Where to meet?
At the friend-next-door's empty pad? Or at the friend's whose pooch is always happy to see you? Or the friend whose parents and siblings are cheering aloud with you? Or is it the friend who plays the best host by ordering your favorite McDonald's burger online? We get it if you have a favorite .
The cheers, the hooting, and the ongoing commentary does need something delicious and wholesome to keep the vibe going. And yes! the McDonald's burger menu has something for every cricket enthusiast.
What to order?
McDonald's burger online! Yummy, flavorful, wholesome, and indulgent, they are for happy times.
With McDonald's burger menu carrying so many amazing options, both veg and non-veg, with fresh ingredients, sauces that playfully linger on, cheese and more, it's as good as it gets!
To help you decide on the McDonald's burger menu, here are a few mouth-watering McDonald's burgers that make it easy for you to order your favorite burger online.
McSpicy™ Paneer Burger: The burger with a zing! The filling cottage cheese patty coated in oh-so-spicy, crispy batter with a creamy sauce and crispy shredded lettuce is the perfect teammate when you are looking to give out an extra cheer for your favorite IPL player.
McCheese Burger® Chicken: Looking for extraaa yumminess to go with the match? This one is loaded with a cheesy veg patty and a flame-grilled chicken patty with roasted chipotle sauce, shredded onions, jalapenos and lettuce, layered between freshly toasted, soft buns. Get bowled by flavors!
Triple Cheese Veg Burger: It's all about a hattrick sometimes, so here goes the triple cheese veg burger with a crunchy corn patty filled with cheese, topped with jalapenos, shredded lettuce, layered between the goodness of whole wheat buns. And yes, it's cheese x 3!
Piri Piri McSpicy™ Chicken Burger: Is it the spices that get you roaring? Then here's the indulgent McSpicy™ burger with a Piri Piri spin. It's an out-of-the-field, we mean an out-of-the-world explosion of flavors with Piri Piri seasoned buns, spicy chicken patty, Piri Piri creamy sauce and crunchy lettuce.
Chicken Surprise Burger: For the big surprise! Here's the crispy, double chicken patty burger, topped with creamy mayo infused with gherkin pieces, crunchy lettuce and a dash of our signature Piri Piri seasoning. Enjoy this between two perfectly toasted sesame buns. And wait up for the match surprises.
If you are thinking, is this it? Hell no! McDonald's burger menu isn't limited to these. Take a look at the complete menu, and hey you could give a second look to the match time sharing combos for what calls out to you and your group of friends, colleagues or family, for a memorable IPL match-watching sesh. To order burgers online, download the McDelivery® app or visit the McDelivery® website. For deals that will most likely blow your mind, download the McDonald's app.
Good food and a great bunch of friends are all you need to cheer out loud for your fave team!