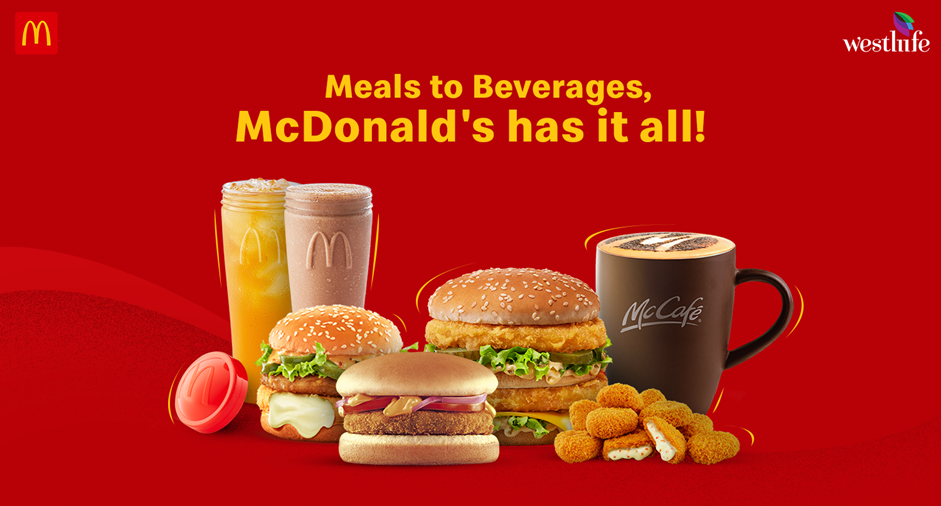 When you think of eating out, one of the first few options is McDonald's, right? It is literally everyone's go-to restaurant! The burgers and fries are definitely unbeatable, but there is another reason for this nation-wide favorite. There is something for everyone and for every part of the day. Full-fledged meals, snacks, and finger foods; piping hot tea and coffee; shakes and chilled beverages; you name it, and McDonald's has it ready for you.
McDonald's has something exciting for every part of the day:
When you have an early meeting to attend, or a morning drive, catch the breakfast menu from 7 to 11 A.M. Get a head start for the day with a Sausage McMuffin®, and a Cappuccino.
Find yourself running late but wanting to grab a quick bite for brunch? Get a Big Spicy Paneer Wrap with a Strawberry Chiller, well, there's always a lot more on the menu!
For lunch, you can try the new, super-filling Chicken Big Mac® or the classic McAloo Tikki Burger® with a Chocolate Shake.
In the late afternoon, sip on a McDonald's tea – Strawberry Green Tea. As you nourish yourself with Strawberry Green Tea benefits, you can also enjoy your drink with a Veg Pizza McPuff®.
Go all out for dinner with the delectable gourmet burgers such as the McCheese Burger® Chicken or McSpicy™ Premium Veg Burger, and end it with a McCafé® Chocolate Frappe for dessert.
Sometimes, when you are not really in the mood for a full meal, you can order your favorite coffee, like a Latte and pair it with Cheesy Veg Nuggets or Fries.
Big burger bites, finger foods that are light, hot beverages, chilled beverages—everything is in one place.
McDonald's is open late at night. So it is an after-party place to crash and fuel yourself with food. Throughout the day and at night, McDonald's is always there. Be it on a work day, holiday, or travel break, the McDonald's menu is crafted with everything you need. Whatever you are looking for, McDonald's has it all. So stop by a McDonald's outlet near you for a delicious burger, yummy snacks, or even just a Strawberry Green Tea! Or, get your order delivered to you from the McDelivery® app or McDelivery® website. Download the McDonald's app for deals and discounts on your meals.