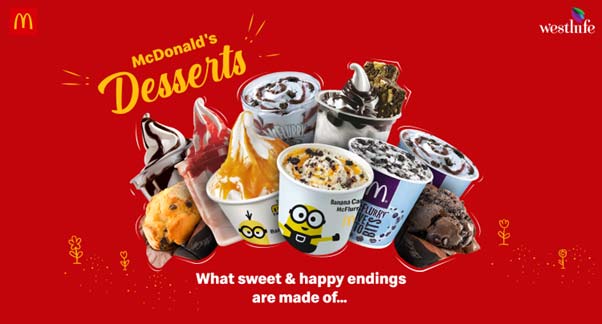 "If we are what we eat…Well, I am awfully sweet."
Desserts definitely soothe the aching sore on a stressful work day, and feel perfect at any time for someone with a sweet tooth. Happiness comes in many forms, but nothing like the ones that come in McDonald's cones, cups, and glasses. McDonald's desserts offer the best indulgence and never fail to please. This is dopamine at its very best!
Do you know what comes after a beyond yummy burger meal? You are guessing it right! It is a beyond yummy dessert! It is effortless to eat; it is soft, sweet and has everything you will ever need. McDonald's desserts, be it McDonald's Soft Serve, Soft Serve Hot Fudge, McFlurry Oreo or any other dessert on the menu is sweet indulgence to complement any moment.
"Desserts are the fairy tales of a kitchen: a happily-ever-after to supper."
Well but all good things come to an end, just like your meal. So, why not end it on a good note with some mouth-refreshing, soul satisfying swirls, scoops, and spoons of chocolate, caramel, vanilla, and fruity flavors!
Delicious and ready to devour McDonald's Desserts!
It is love at first bite!
Soft Serve Strawberry (M)
Soft Serve Hot Fudge (M)
Mcflurry Oreo Small
McFlurry Oreo Medium
Minion Banana Caramel Sundae (M)
Minion McFlurry Banana Caramel Oreo (M)
Minion McFlurry Banana Caramel Oreo (R)
Black Forest McFlurry Medium
Black Forest Mcflurry (M) BOGO
Vanilla Chocolate Muffin
Chocolate Chip Muffin
Brownie Hot Fudge (M)
Don't let your sweet tooth ache any longer and drop by your nearest McDonald's outlet or order in from the McDelivery website or McDelivery app. Happy Eating!