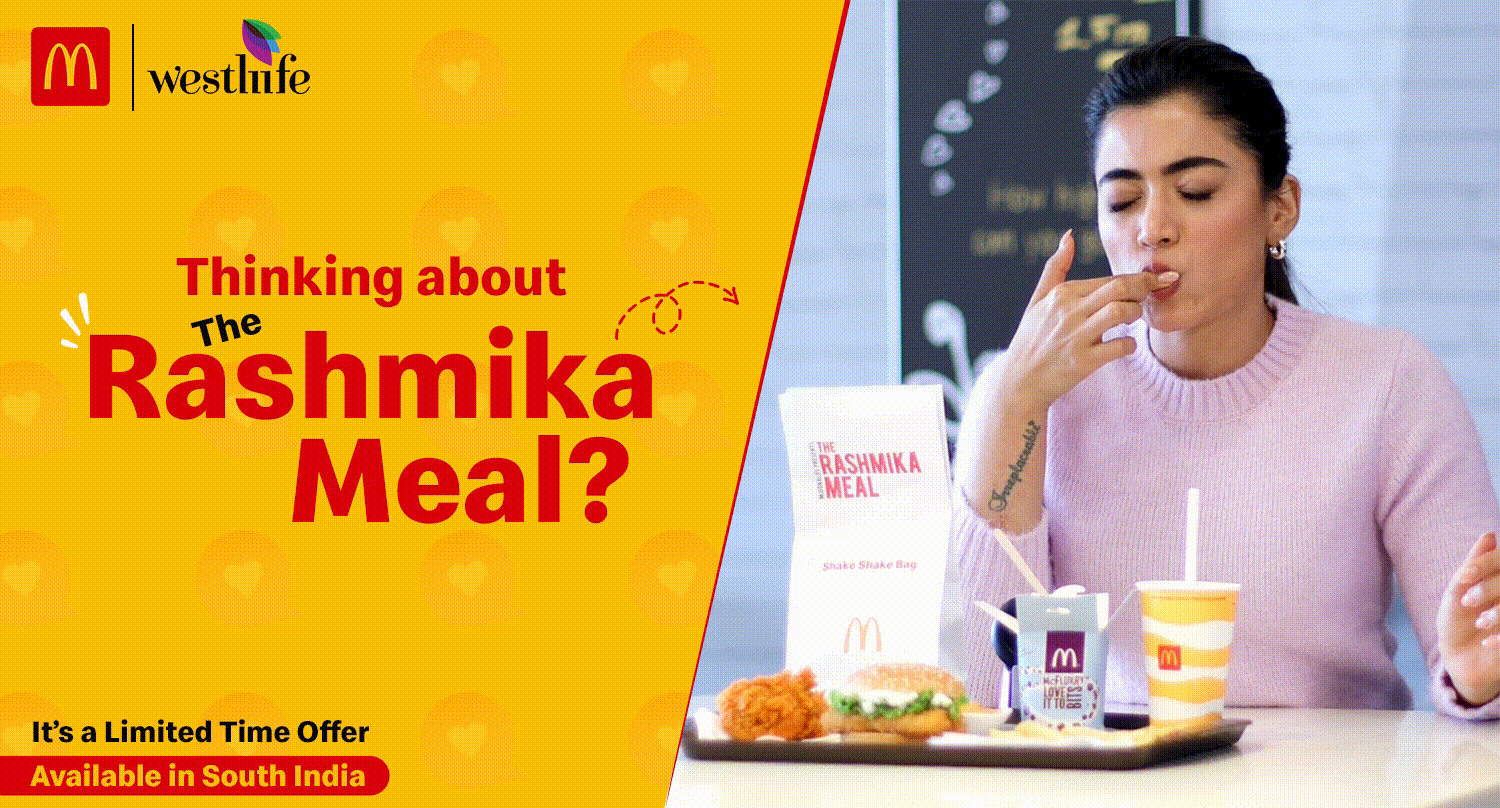 Thinking about The Rashmika Meal?
It's a Limited Time Offer
Available in South India
What can one expect when everyone's favorite, Rashmika Mandana brings her McDonald's favorites together in one meal! Minds racing, hearts thumping and tastebuds eagerly waiting to get to this meal at the earliest, isn't it? Soaring excitement is what we hear, we say cut the wait, and head straight to experience your favorite's favorite meal with items that have been a part of Rashmika's big and small wins of life. Before that, let's take you on a little journey of what The Rashmika Meal is about…
Tastebuds can't do without something spicy?
True! If that's your answer, then you've got a lot to dig into in The Rashmika Meal. Be it the tastebud tingling Piri Piri Fries, McSpicy Fried Chicken or the wholesome yet fiery McSpicy Chicken Burger. You can indulge in the spiciness with your favorite's favorite meal.
Need a little bit of every flavour on the table?
Hell yeah!?
While spice CANNOT be compromised, you'd like to find the sweet and the sour nom noms as well? You're definitely going to relish every bit of this meal, that is predominantly spicy but also has portions of the decadent Oreo McFlurry and the effervescent Nimbu Fizz.
With something sweet is how you would like to end your meals?
If yes, almost always is your answer, then we're almost a hundred percent sure that The Rashmika Meal is for you! You can melt down all the spiciness with the creamy Oreo McFlurry.
Do you enjoy experimenting with the way you eat your meal?
Not sure? How about trying The Rashmika Meal in her style? She reserves the first bite for the McSpicy Fried Chicken, then packs the Piri Piri fries into the McSpicy Chicken Burger to level up the spice factor. And then to cool off the heat, she takes a huge gulp of the refreshing Nimbu Fizz and calls it a meal with the last bite of the creamy McFlurry. Impressed, aren't you?
If the answer to the above questions have mostly been YES, YES, YES! Then wait no more, as this meal can be one of your McDonald's favorites. Don't forget, this is a limited time offer and available in South India. To place an order online, visit the McDelivery website or app or head to the nearest McDonald's for all things spice and nice!