Whether it is a day filled with festivities or if it is just another day in your life, one thing that should never stop even in the new normal, is – celebrating the little things. And what better way to do that than by exploring the Chef's special fully loaded, indulgent and deliciously filling burgers from the McDonald's Gourmet Burger Collection. As we still adapt to this new normal and make tweaks to our routines and way of working, there is every reason to celebrate life. So, come, celebrate with the chef's special McDonald's Gourmet Burger Collection.
What is the McDonald's Gourmet Burger Collection you ask? Well, it is everything that "just a patty between two buns" is not. Our chefs who are constantly innovating to meet evolving customer tastes and trends have whipped up this seriously sophisticated McDonald's Gourmet Menu. Juicy, flavoursome and filling – this is what makes the McDonald's Gourmet Burgers the perfect indulgent meal. A good burger is many things to many people and our Gourmet Burgers exceeds your expectations with its oh-so-perfect balance in flavour, texture and wholesomeness.
The McDonald's Gourmet Burger Collection has outrageously delicious options for both vegetarians and non-vegetarian eaters alike. When you're feeling like you can take on the world and accomplish everything, all you need to do is to take your pick from the different cheesy or spicy burger options, which are guaranteed to excite your taste buds. There is something for everybody to choose from. Don't you feel spoilt for choice already?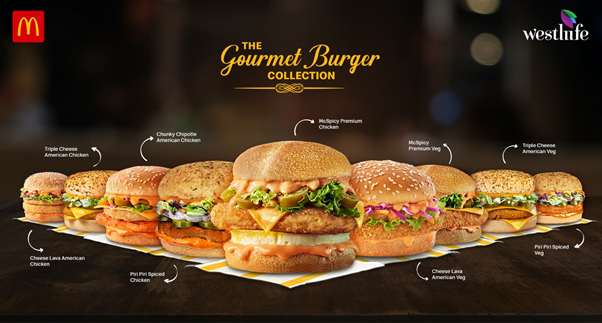 In conclusion, and we're sure you'd agree too, the McDonald's Gourmet Burger Collection has the right amount of everything- premium sauces and flavours and variants you love. So, whether it's a celebration with a whole bunch of people or a party for one, whether you are celebrating big achievements or just the little joys in life, for each one of them, there's a McDonald's. Try the McDonald's Gourmet Menu and make your celebration extra special.
Ordering delivery of the delicious, truly indulgent McDonald's Gourmet Burgers are honestly even easier than eating it. Order yours now from the McDelivery website or app, or just head to your nearest McDonald's restaurant for a trip to food heaven and back!