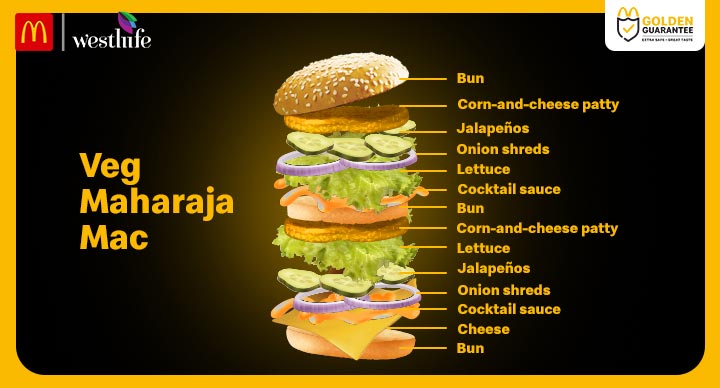 Can anyone call themselves a true McDonald's fan if they haven't tried our tallest and most majestic burger?
Both our Veg and Chicken Maharaja Macs are a must-have at least once. Moreover, our vegetarian-friendly version of the world-famous Big Mac is also among the most cheese-loaded offerings in the McDonald's India menu!
How? We'll tell you right here.
Here's a good look at all the flavours and ingredients that come together to form this McDonald's powerhouse called the Veg Maharaja Mac. Read, order, and be floored!
Buns
This mega burger includes three slices of sesame-topped buns adding to its elevated status. Brought to life at a state-of-the-art facility in Maharashtra, they contribute a pillowy softness to the interplay of multiple textures in your Veg Maharaja Mac. Just what the burger needs for a heavenly bite!
Corn-and-cheese patties
Need your veg patties to be richer? What's better than a delicious combination of corn and cheese? Your Veg Maharaja Mac has not one but two of these beautifully seasoned patties ruling the lot. One bite, and you'll feel like a royal in no time!
Jalapeños
When your burger is called Veg Maharaja Mac, it's got to have something hot and zesty in it. That's why we pack the burger generously with these fiery peppers, which we source fresh and local from some of the best jalapeño farms in Karnataka. We can see you drooling, you know.
Onion shreds
We can count on this sweet bulb to enhance the flavour of anything on Earth and add some crispiness to it, and McDonald's Veg Maharaja Mac is no exception!
Lettuce
A slice of these iceberg greens from the verdant hills of the Nilgiris not only keeps things refreshing. It also infuses this multilayered burger from the McDonald's India menu with a distinct crunch.
Cocktail sauce
Keeping all the components together while also imparting a good amount of creaminess to the burger, our cocktail sauce promises an experience that will linger in your taste buds and memories for a long, long time.
Cheese
Adorning the Veg Maharaja Mac is a slice of smooth cheddar cheese, sourced from Baramati, Maharashtra. After the cheesy patties, this one's truly a bonus!

Cross the McDonald's Veg Maharaja Mac off your eat list today. If you've already done that, go for this superstar from the McDonald's India menu once again! Head to your nearest McDonald's outlet or order now from the McDelivery website or app.