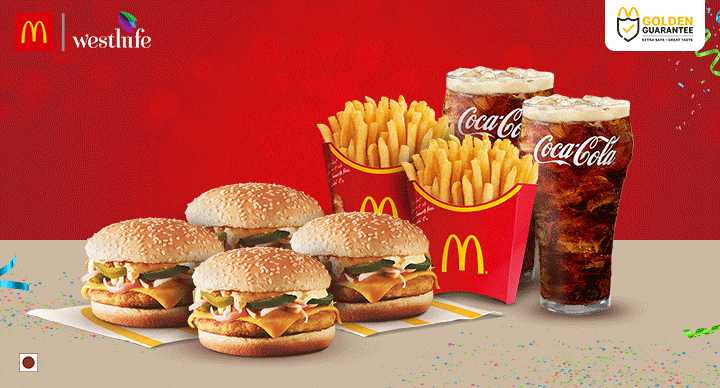 Celebrating a special day of yours at home with your family?
Allow us to suggest calling for a McDonald's meal home if you'd prefer.
We have just the McDonald's burger combos you'd need for such an occasion. Here are 3 packs for you from the McDonald's India menu. Stay home, celebrate safely.
Chicken lovers, unite!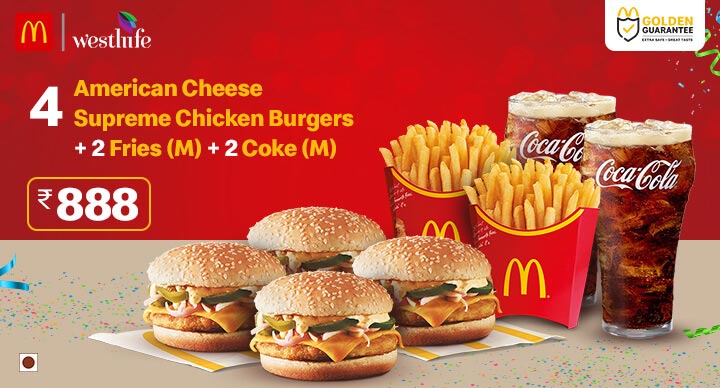 If you're a family of chicken aficionados, our combo of 4 American Cheese Supreme Chicken Burgers + 2 Fries (M) + 2 Coke (M) for ₹888 would be perfect for you. Each of you can savour the juicy taste of the grilled chicken patty inside your McDonald's burger, while the cheese slice, Mexican habanero sauce, jalapeños, and shredded onions act as a band of accompanying flavours. Sounds delicious, doesn't it?
When everyone has different tastes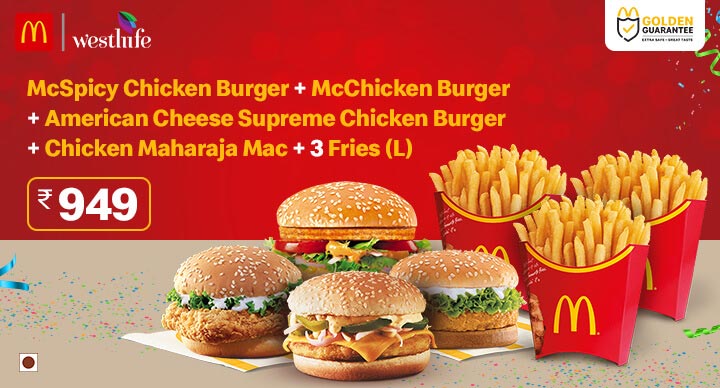 Can't agree on your choice of chicken burger? Order the McSpicy Chicken Burger + American Cheese Supreme Chicken Burger + McChicken Burger + Chicken Maharaja Mac + 3 Fries (L) for ₹949 from the McDonald's India menu. While the McSpicy Chicken Burger will obviously suit the spice lovers among you, the mayonnaise-and-lettuce-lined McChicken Burger would be apt for those seeking simple flavours. The American Cheese Supreme Burger would get you America and Mexico on a plate. And the Chicken Maharaja Mac, with its tall stature, is a foodie adventure in itself.
For the vegetarians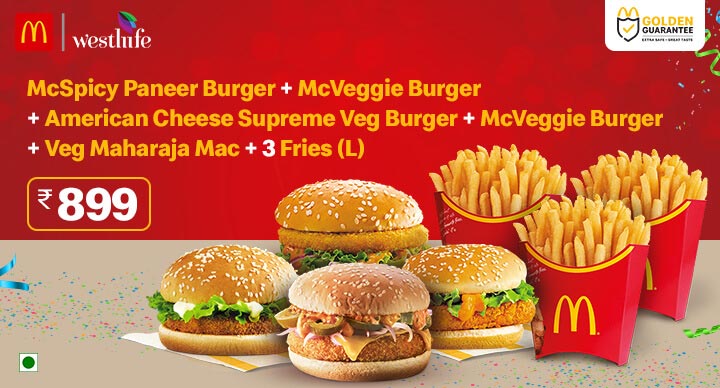 We highly recommend our combo of the McSpicy Paneer Burger + American Cheese Supreme Veg Burger + McVeggie Burger + Veg Maharaja Mac + 3 Fries (L), available for ₹899, to our vegetarian friends. The McSpicy Paneer Burger is a thrilling solution for your spicy-food cravings, and the American Cheese Supreme Veg Burger has a crispy corn and cheese patty as its star attraction. Veggie lovers can dig into McVeggie Burger's veggie—sorry—very delicious patty (think potatoes, peas, carrots). And finally, the Veg Maharaja Mac is one majestic McDonald's burger for the truly hungry.
Keep your home celebrations simple yet flavourful with these delicious combos from the McDonald's India menu. Order from the McDelivery website or app right away!