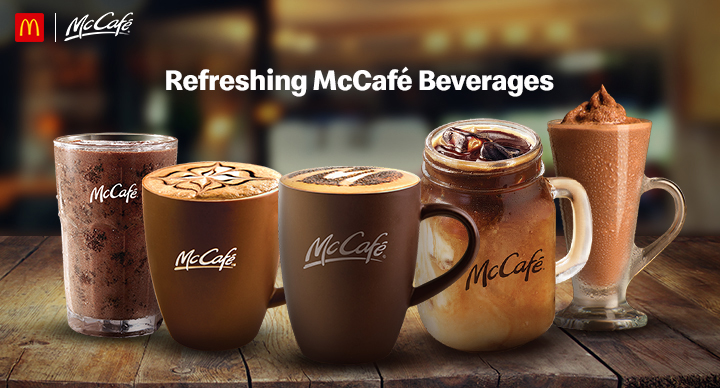 No matter what time of the day it is, coffee is always a good idea. And, what better than the delightful experience of McDonald's coffee. The handcrafted excellence of our McCafé Menu stands true to quenching your bitter-sweet thirst. Every coffee drink on the McCafé Menu is loaded with freshly brewed aromatic flavours, and is a combination of both, hot as well as cold beverages.
What's there in the McCafé menu?
McCafé menu holds a collection of soothing McDonald's coffees with bold flavours, coupled with a smooth texture, along with some great non-caffeine and fruit-based drinks.
The McCafé menu is rich with delectable flavours of handcrafted Cappuccino, McCafé Latte, McCafé Americano, McCafé Mocha, Hot Chocolate, and many more beverages. Also, the best pairing with a McDonald's coffee would a classic muffin, or any other choicest snacks of your choice.
What makes our Joes stand out? The Handcrafted excellence.
When we say our McDonald's coffees are handcrafted, we don't just mean the grounding of fresh beans. There's a lot more that goes into handing you that beautiful cup of latte art.
This handcrafting process calls for many steps, such as adjusting just the right quantity, brewing it for a specific duration, discerning the right texture for the foam, designing ingenious latte art and so much more goes into creating those gems in the McCafé menu.
Most importantly, to our baristas take extra care to retain the smooth flavour of the coffee by being extremely prudent during the extraction process i.e., dissolving different coffee flavours into water. Why is this so important? Because this process determines the coffee is not too strong and not too weak. Just perfect McDonald's coffee drinks.
Not to boast, but our Arabiaca beans deserve due credit for the refreshing aroma that comes with every cup. And we pride in the creamy texture of our McDonald's coffees due to non-use of powdered milk. Yet another, crucial tip.
For your next Cuppa, visit your nearest McDonald's outlet or order at ease from the McDelivery app. To make it further convenient we've also introduced various delivery & pick-up options: contactless delivery, take-out and on-the-go service. You can easily use any of these services and enjoy your favourites anytime, anywhere.