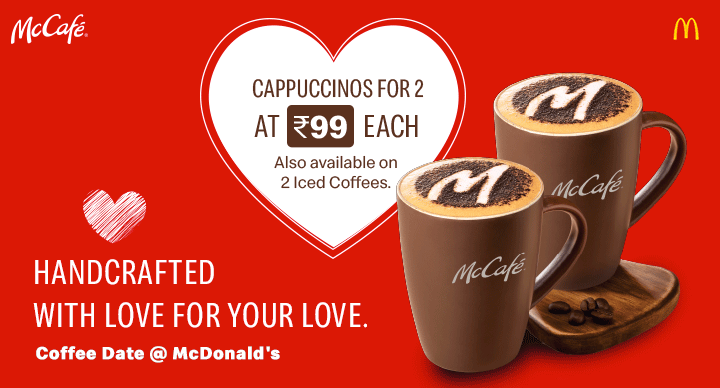 Planning a perfect date takes a dash of effort and a whole lot of thought. And if it is Valentine's Day, a perfect date can mean a lot more than usual. A classic date idea is to plan a coffee date. These dates are often fun starting points for an evening with your loved one. They can be very casual and relaxed. Paired with a heart-warming cup of coffee and the conversation can go on for hours! A friendly, comfortable ambience can be a setting for the beginning of something wonderful.
McDonald's, the perfect spot
Looking for the perfect spot for your Valentine's Day coffee date? There is no better place than McDonald's to celebrate this special day. The casual, relaxing ambience is perfect for an impromptu date or even a planned one. Along with being a familiar setting for a special moment, it is the perfect place for coffee lovers. Let us share a secret with you, a coffee date at McDonald's will be very pocket friendly as well.
Another cool idea is to take your partner on a romantic drive with your favourite music playing in the background. Pick up your favourite coffee and food from McDonald's using the on-the-go service. We'll deliver your order straight to your car. This on-the-go coffee date can be a great surprise for your partner.
Safe and hygienic experience
What makes McDonald's an especially perfect spot for a coffee date this year is that we ensure the highest standards of hygiene and safety along with contactless dining to make your date stress free. While we have always maintained these standards at McCafe, due to the pandemic, there are extra measures implemented to ensure your safety. Simple changes like thermal screening before entering the restaurant, social distance markings for ordering kiosks and contactless payment have been added. This minimizes direct interactions and keeps you safe. All orders are prepared fresh like always and tables are set as per social distancing norms.
So, this Valentine's Day, plan a blissfully safe coffee date at McDonald's. To make this day even sweeter, there is a coffee offer waiting for you. Get 2 Cappuccinos or 2 Iced coffees only at ₹99 each. Enjoy these cups of love with your beloved and go for refills stress-free!