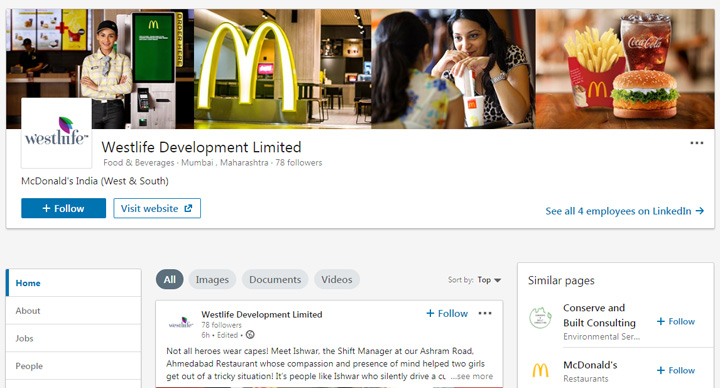 2019 has been a great year for the McDonald's India (West & South) team and its partners. We have checked off many milestones like completing 300 restaurants in South and West India, selling 10 million cups of coffee, efficiently eliminating single-use plastic in our restaurants, but that is just the tip of the iceberg. Over the years of McDonald's keeping its customers happy and satisfied (since 1996!), you, McDonald's lovers and fans across the region, have been with us through all the big and smalls in our journey thus far.

This time, we are expanding our platform over to LinkedIn and we want you to be there yet again. Through LinkedIn, Westlife Development Limited, the master franchisee of McDonald's in India(South & West), is excited to share its news related to new product launches, financial results, CSR work, awards & recognition etc., and would love to have you on board on this splendid journey. After all, aren't we all here because of you?

Besides serving the world's best fries and burgers, we also believe in keeping our customers well-informed and engaged. So keep watching our LinkedIn space for more good food stories!