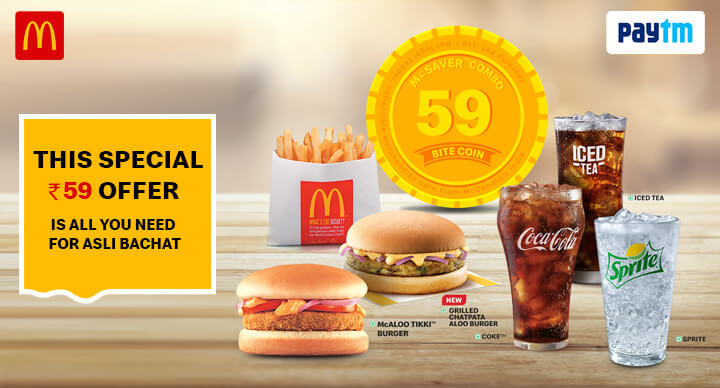 Have you bought a new phone lately? Or maybe spent just a little extra on Puja shopping? Bought that super-expensive dress finally? And now, you are looking to recuperate after your spending-spree (as best as possible) and you have all sorts of brilliant ideas. Planning to take a bus for a while? Living without a toilet paper? Cutting your own hair? Breaking-up just before your not-so-sweetheart's birthday?
Relax, we have a much better saving idea for you. We are calling it #AsliBachat. And it is real saving, we promise. Be with us on this one. This festive season, the McDonald's Asli Bachat McSaver combos bring you any one snack + any one beverage at just INR 59! How does that sound?
Ensemble your own McSaver Combo at INR 59
All your favorite mains and sides like McAloo Tikki Burger, McEgg Burger, Pizza McPuff, Masala Wedges, fries, along with beverages like Coke, Iced Tea and so many more are up for you to enjoy as various combos at a pocket-friendly price. There are, in fact, 30 combos at INR 59 for you to explore.
The McSaver Combos are available across all 300 McDonald's restaurants in West & South India. And for the first few days, you can buy a 59 INR voucher exclusively on Paytm, and redeem it at any McDonald's India (West & South) store.
All that glitters will be gold…
To celebrate the launch of the #AsliBachat offer, we have planned something really exciting. We have a little contest for you to participate in, so that you stay ahead of your peers and get your first McSaver Combo before they do. For that, you need to get your hands on our very bright, very limited edition collectible called Bitecoin!
The "how" part is the most exciting part of all. All you have to do is spot the coin (like the one you see in this blogpost), take a screenshot, and DM us on Instagram or Twitter with #Bitecoin and #McSaverCombo, and keep your fingers crossed.
Remember, only 300 physical coins are up for grabs.
Hint: You can start your Bitecoin hunt on McDonald's App as well. Let the hunt begin!