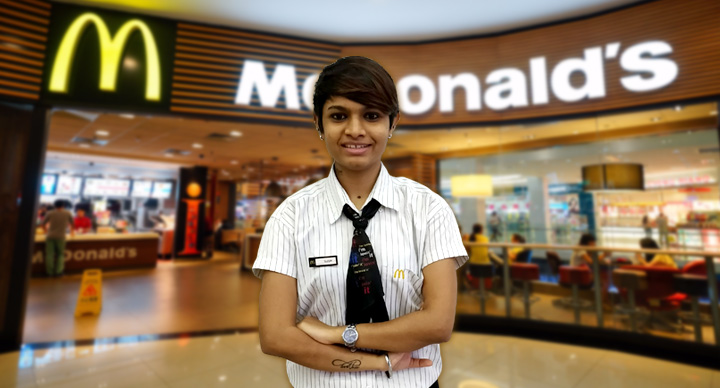 If you meet Sushmitha, you are bound to smile instantly, for her smile is infectious, and she is never seen without it. Sushmitha came to Bengaluru from a small town near the city, with a dream to live an independent life. She kept looking for an opportunity to make something of her life, and her search reached its end 60 kilometers away from home, right at the door of McDonald's.
Having joined as trainee crew, Sushmitha's skills and outstanding customer service soon won her appreciation across management and this encouraged her to do better every day. She entirely dedicates her success at McDonald's to the great mentors she found in her managers. They took her under their wing, taught her everything, and also supported her in her personal life. They convinced her parents to let her shift to the city to save on the travel time and effort and gave her enough opportunities to continue growing.
Today, Sushmitha is a star Restaurant Manager and possibly the youngest ever to reach this position. Even though she had to fight many battles to reach where she is, including convincing her parents to let her move to Bengaluru, each step has led her to a life she always wanted and deserved.