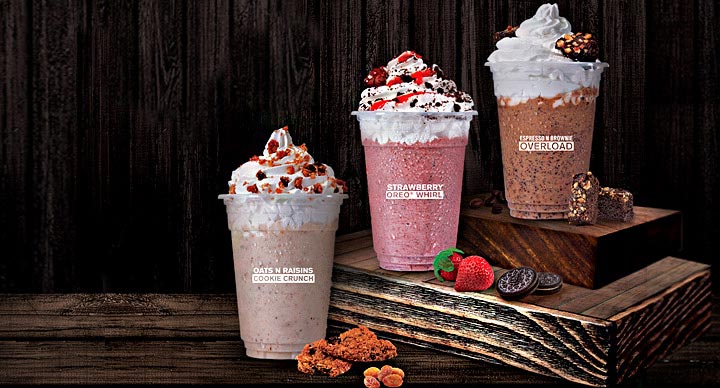 If there's something that traditional coffee drinkers hate, it's to share either their coffee or their drinking time. To enjoy the fleeting moments of sipping their coffee, they brook no interruption. Cut to the present, and it's a whole new story.
Coffee shops like McCafé are all about sitting around with friends, chatting and sharing gossip and, of course, coffee. The "coffee time" becomes all the more enjoyable because of the bonhomie that comes with sharing moments and laughter with friends.
Taking this idea of sharing a step ahead, McCafé – available across 90+ restaurants in 11 cities – has now introduced three new beverages called Share Shakes. These shakes come in tall glasses and hence can be shared.
The Shakes pleasure needs no invitation coming as they do in three mouth-watering flavours, whose mere names have one drooling. There's Oats N Raisins Cookie Crunch, Strawberry Oreo Whirl, and Espresso N Brownie Overload.
Heaven can wait!
Oats N Raisins Cookie Crunch, as the name suggests, has freshly baked oats and raisins cookies crushed into whipped cream and vanilla soft serve ice cream, and topped with real raisins. Strawberry Oreo Whirl uses Oreo Crush cookies and vanilla soft serve ice-cream, topped with real strawberry slices and chocolate pieces. Espresso N Brownie Overload is a concoction of signature fresh McCafé espresso, mixed with vanilla soft serve and topped with walnut brownie slices with nuts.
In other words, the Shakes can both be sipped and eaten all at once. They are priced between Rs 180-Rs 190.
McCafé came up with the idea of launching its Sharing Shakes, after seeing the enthusiasm with which its loyal customers were sharing and enjoying its rich and fulfilling frappes. Now, Share Shakes hold the promise of allowing customers more indulging time.
The Sharing Shakes offer is initially for a limited time only, from October 13 – Dec first week. So, make sure you don't miss out on this scrumptious offer!