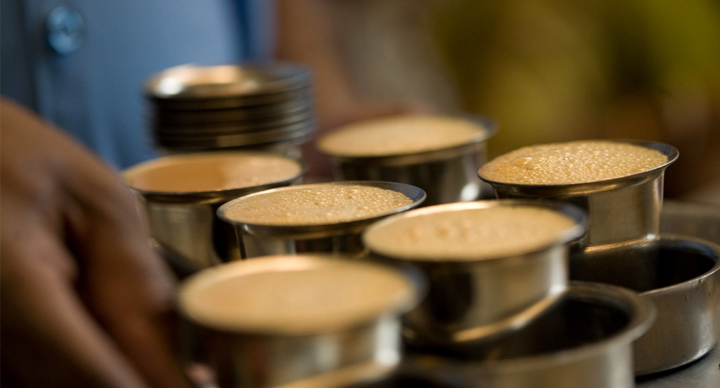 In My Dateless Diary, R K Narayan gives a description of his mother preparing coffee, "selects the right quality of seeds almost subjecting every bean to a severe scrutiny, roasts them slowly over charcoal fire, and knows by the texture and fragrance of the golden smoke emanating from the chinks in the roaster whether the seeds within have turned the right shade and then grinds them into perfect grains." That's exactly how scrupulous coffee lovers are, from selecting the right quality beans to preparing the decoction.
If North Indians love their tea, filter coffee is an indispensable part of South India. Coffee enthusiasts follow strict methods of brewing coffee, be it a cold brew or a faster hot brew method. There are debates and discussions around coffee. Some like it mixed with high chicory content, and some prefer pure coffee. Some are pulled by the aroma of a particular kind and some are fans of the smooth taste. But why do South Indians love their coffee so much?
The reasons will take you to the history of coffee in India. The story of coffee in India dates back to 16th century, when Baba Budan brought first coffee beans to India and planted them in Chikmagalur. Three centuries later the British introduced coffee to the Tamil household. In order to create a distinct symbol of community identity,Tamilians were the first to adopt coffee as their choice of beverage over tea. Gradually the coffee culture spread across other South Indian communities too.
Another important reason lies in the fact that most coffee plantations are located in South India. From the blue mountains of Nilgiris to the ghats of Munnar, there are over 16 varieties of coffee produced in South India and this region also consumes 70 percent of the overall production. Quality coffee is most sought after.
By opening the first McCafe in Bengaluru, McDonald's contributed by bringing to the market affordable quality coffee. With plans of opening 50 to 75 more McCafe's by December 2015, McDonald's is gearing up to give you more reasons to enjoy your favourite cuppa. Arabica beans sourced from Chikmagalur make every McCafe coffee a delight. Being such a versatile beverage, coffee can be enjoyed at any time of the day and its best enjoyed with a light snack. McCafe brings you both, great coffee and delectable snacks, with McDonald's trademark quality and freshness.