With the festive season in full swing, there is so much going on. Cleaning, revamping, deciding on what decorations to choose, what clothes to wear, what gifts to buy, and which guests to invite. Ah, everywhere there is hustle and bustle to make sure that a perfect celebration takes place. Being constantly on the go ought to make you famished. So, make sure to take some time out for yourself for a quiet meal. And McDonald's is right around the corner for you to relax. So, give yourself a pat on the back for seeing the completion of tasks, running last-minute errands successfully, sending out greetings and best wishes, and every other big or small work done. Good job!
Spending some quality me-time with some delicious food is awesome, isn't it? That's why McDonald's brings to you the McSaver meals, where you enjoy more for less. These pocket-friendly deals are quite the attraction. Relish the sweet moments of your own company with your favorite meal. Which burger are you in the mood for?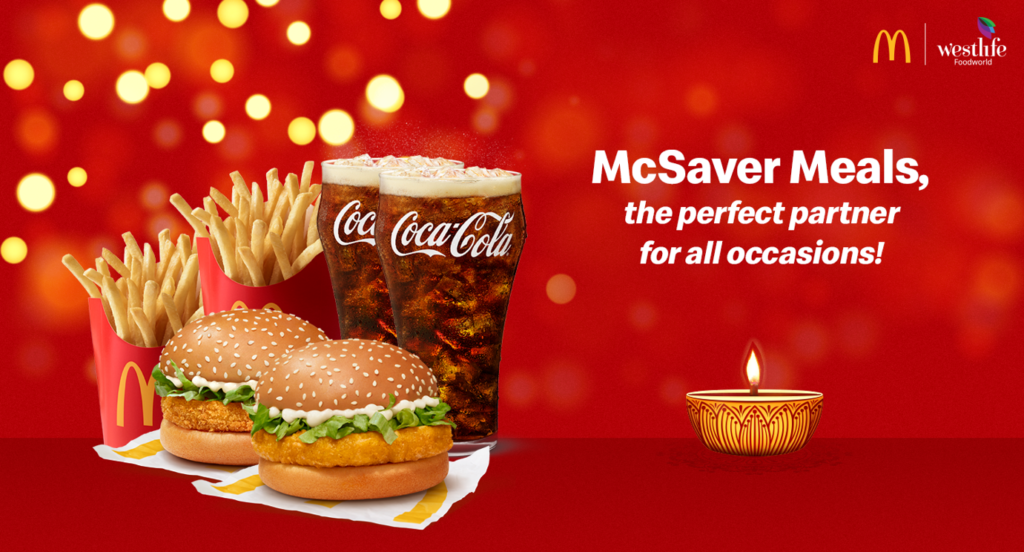 McSaver McAloo Tikki Burger® Meal
This truly Indian burger brings to you a crunchy potato and pea patty paired with onions and delicious Tom Mayo. Enjoy it with some Fries and a Coke on the side.
McSaver McChicken® Meal
Relish a complete feast that includes Fries, Coke, and a burger with a tender and juicy chicken patty that comes with fresh lettuce and creamy mayonnaise.
McSaver McVeggie® Meal
Find a wholesome patty well-cooked with potatoes, peas, carrots, and authentic Indian spices that are topped with crunchy lettuce along with mayonnaise. This meal comes with Fries and a Coke too.
McSaver Chicken Kebab Meal
The flavors of the popular chicken kebab come to you in a robust and succulent burger paired with hot and evenly cut Fries and a chilled Coke.
Apart from these classic McSaver meals at the restaurant, you can also find other options on the McDelivery® app. You can choose from: McSaver Masala McEgg®, McSaver Pizza McPuff®, McSaver Mexican McAloo Tikki, McSaver Chicken Nuggets, McSaver McCheese Burger® Veg Meal, McSaver McCheese Burger® Chicken Meal, McSaver Cheesy Italian Veg Burger Meal, McSaver Cheesy Italian Chicken Burger Meal, McSaver Corn & Cheese Burger Meal, McSaver Grilled Chicken & Cheese Burger, McSaver Filet-O-Fish Meal, McSaver McSpicy™ Paneer Meal, McSaver McSpicy™ Chicken Meal, McSaver Veg Maharaja Mac, McSaver Chicken Maharaja Mac, and more.
Save while you savor these scrumptious McSaver meals. Drop by a McDonald's restaurant near you for a wonderful dining experience. You can have your meals brought to you from the McDelivery® app or the McDelivery® website. For more deals and discounts on a McSaver chicken meal or other McDonald's McSavers menu, download the McDonald's app.