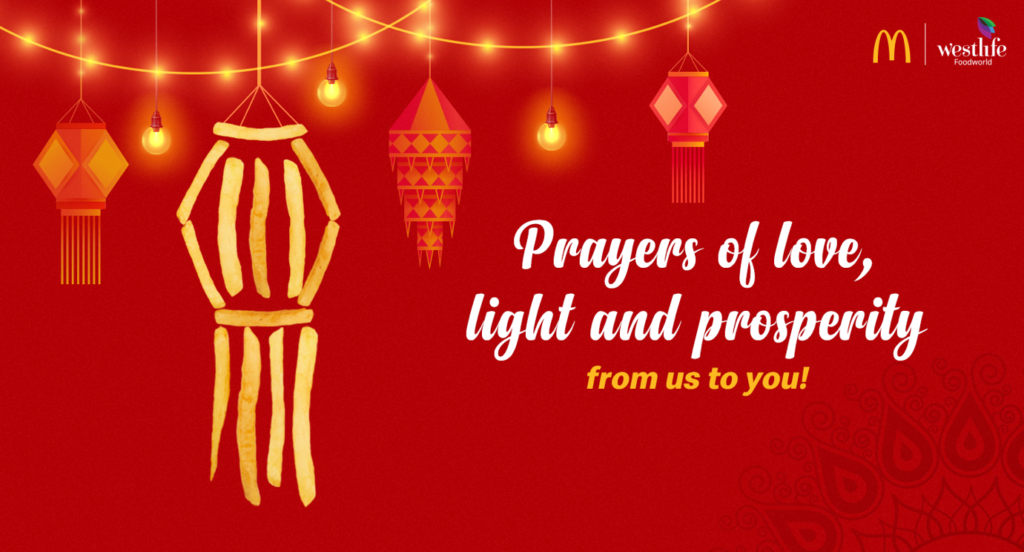 The most celebrated occasion in India is finally here. McDonald's wishes you a Diwali full of light, laughter, happiness, and prosperity! May your coming year be filled with abundant goodness.
As you are aware, McDonald's loves nothing more than being a part of your celebration. We would be thrilled to share the warmth, togetherness, and joy of sharing meals with you. The McDonald's menu is brimming with delightful options, one after the other, to give you a memorable feast. Most people prefer vegetarian food during the festive season, and you'll be glad to know how robust and ravishing our veg menu is. There is something for everyone's liking, and you are going to be spoiled for choice.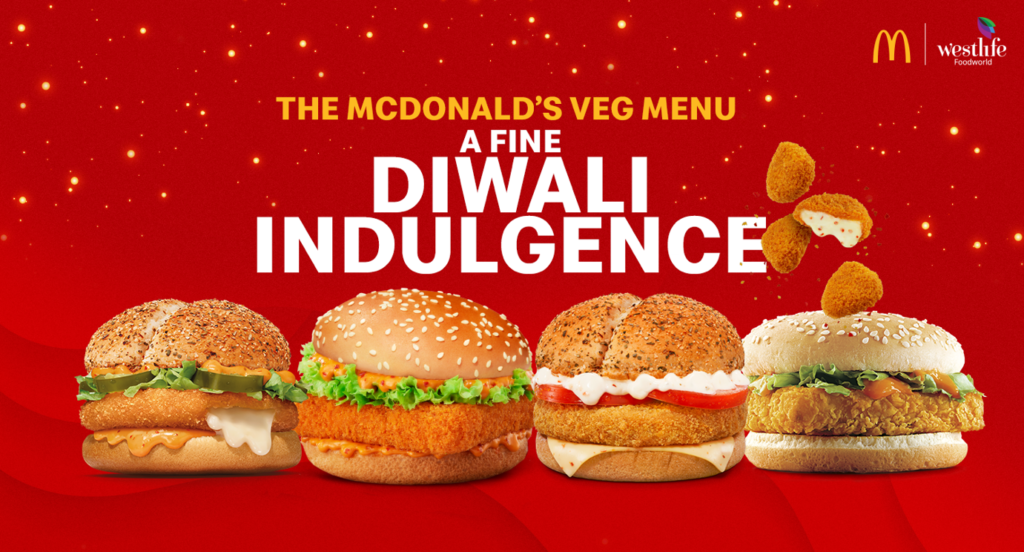 If you haven't tried the McDonald's new cheeseburger, the Cheesy Italian Veg Burger, you definitely must. It's a cheese-filled indulgence like no other. Then we have the McCheese Burger® Veg and Piri Piri McSpicy™ Paneer Burger, which are Jain Friendly and come with no onion and no garlic. You can also choose from: Corn & Cheese Burger, McSpicy™ Premium Veg Burger, McAloo Tikki Burger®, McVeggie® Burger, Veg Maharaja Mac, Mexican McAloo Tikki Burger®, McSpicy™ Paneer Burger, and Big Spicy Paneer Wrap.
While you are catching up with your friends and family or playing mandatory meet-up games like cards or charades, snacks would be welcomed by all. There are Fries, Classic Cheesy Fries, Salsa Cheesy Fries, Cheesy Veg Nuggets and Veg Pizza McPuff® for you to munch on.
A dash of extra flavor is always amazing, so pair your burgers and snacks with these condiments:
Classic Cheesy Dip, Mustard Sauce, Barbeque Sauce, Sweet Chilli Dip, and Tangy Pepper Dip.
Replenish and stay hydrated with these delicious drinks:
Berry Lemonade Splash Regular, Green Apple Chiller, Lemon Chiller, Chocolate Shake, Strawberry Shake, American Mud Pie, Mango Smoothie, Mixed Berry Smoothie, Strawberry Chiller, Chilli Guava Coke, Chilli Guava Sprite, Masala Pop Coke, or Masala Pop Sprite.
Celebrations are incomplete without something sweet, so take a look at these desserts and treats from McDonald's:
KITKAT McFlurry™ with Brownie, KITKAT Sundae, Soft Serve Hot Fudge, Black Forest McFlurry™, McFlurry™ Oreo, Soft Serve Strawberry, Brownie Hot Fudge, Vanilla Chocolate Muffin, Chocolate Chip Muffin, Blueberry Cheese Cake, Chocolate Express Cake, Oreo Sundae, and McFlurry™ Oreo.
Check out these festive burger combo offer options as well:
Festive Sharing Meal for 4
Any 4 burgers of your choice with 2 large Fries, 4 Coke drinks, and a Dip Box.
Festive Sharing Meal for 3
Any 3 burgers of your choice with 2 large Fries, 3 Coke drinks, and a Dip Box.
Festive Sharing Meal for 2
Any 2 burgers of your choice with 1 large Fries, 2 Coke drinks, and a Dip Box.
Stop by your nearest McDonald's restaurant with your loved ones for a wholesome meal. Or, you can always get your meals brought to your home by ordering through the McDelivery® app or the McDelivery® website. To know more about the deals and discounts on McSpicy™ Paneer Burger or McDonald's new cheeseburger, and other offers at McDonald's, download the McDonald's app.
Once again, Happy Diwali!