Cricket. It is way more than a sport. It is something that unites the entire country like no other. There is so much history, culture, passion, and emotion attached to this word that is simply undeniable. And the ICC Men's World Cup has arrived, and to our great delight, it has arrived in India! Now, whether you are in a classroom, meeting, traveling, shopping, or eating, there is just one question on everyone's mind. "What's the score?" Greetings and salutations are followed by queries on the match; every conversation is about a match; and every plan is made according to the match.
In cafes, restaurants, offices, colleges, and homes, everybody is huddled with their eyes glued to the screen. Television screens, computer screens, mobile screens—whatever you can get your hands on to see the match. This beautiful game just brings so many different people together, and this is truly incredible. It's a celebration; it's a reason for joy, and McDonald's is right here to be a part of your happiness.
It's #McDCokeMealMania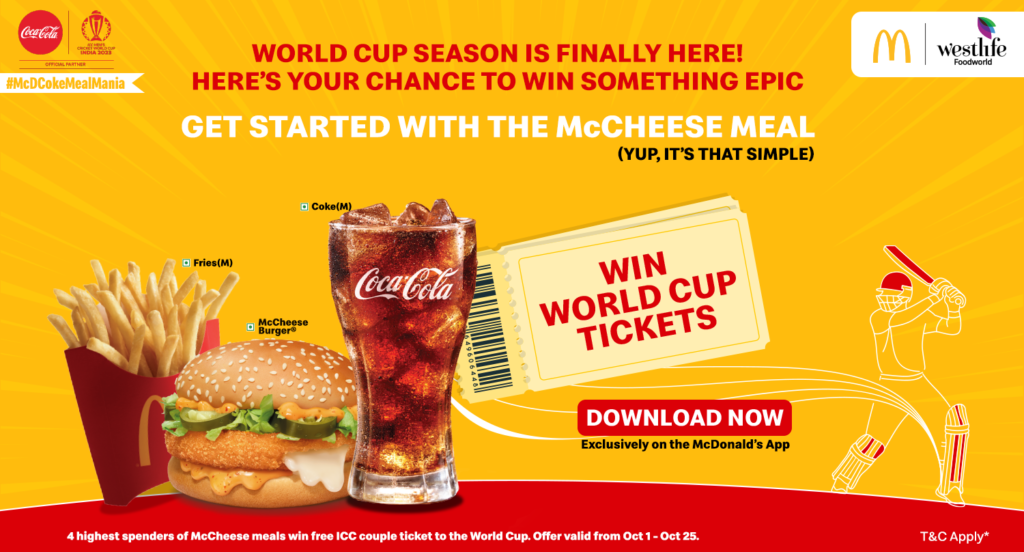 Oh, there is something so amazing in store for you that you'll find it hard to believe. Brace yourself. In collaboration with Coca-Cola India, the top 4 spenders on McDonald's app who buy Coke McCheese Burger Meals stand a chance to win World Cup tickets. Yes, you can witness the World Cup at the stadium with thousands of fellow cricket fans. And this is just a Coke McCheese Burger Meal away. The offer lasts till October 25, so, hurry up, because it could be you to whom the camera pans at the stands.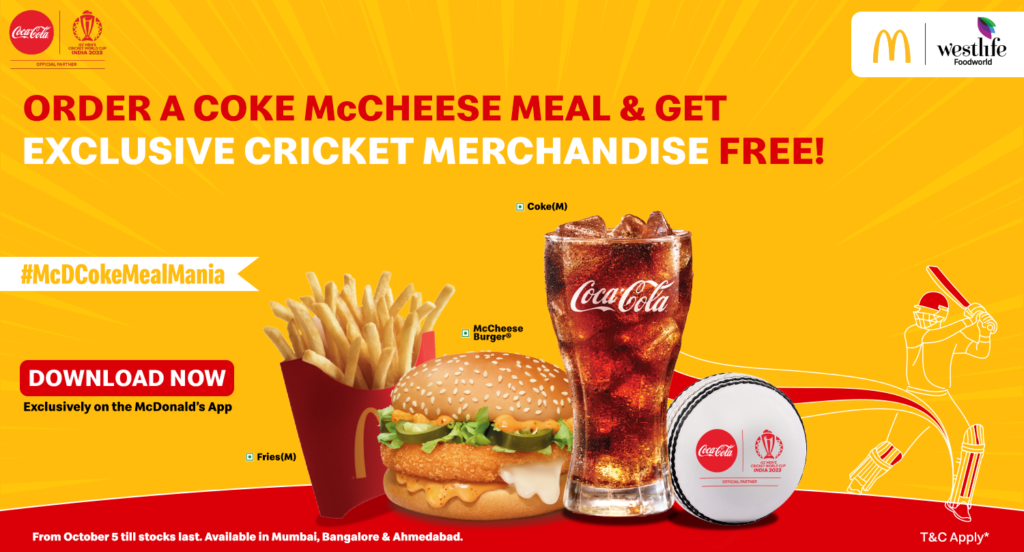 There's more! The Coke McCheese Burger Meals have more to offer. With every order of a McCheese Veg or McCheese Chicken Burger Meal with Coke on the McDelivery® app, you can get exclusive cricket merchandise, which is a World Cup cricket ball (available in Mumbai, Bangalore, and Ahmedabad). It starts from October 5 until stocks last. Just imagine: you could own the ball bowled in the 2023 World Cup or the ball that clean bowled the opponent. Pretty awesome, right?
Watching a World Cup match is so memorable. And when it's an India vs. Pakistan match, then nothing else matters. The game to be played on October 14 between Blue and Green is going to have the most eyes. Not just the two neighboring countries, but also the world, is excited for the outcome of this glorious match. It's going to be a Saturday, so get-together and enjoy to the fullest.
And where there are people, it goes without saying that there must be food. There's lots and lots of food, on the McDelivery® App. This App is set to take your natch viewing experience to another level with the introduction of Fries Bucket, Chicken McNuggets Bucket and the combo of Chicken McNuggets and McSpicy Chicken Wings. So, sit back, revisit old World Cup stories, and be a part of new ones, and in no time your food will be delivered to you.
Don't be late in ordering your Coke McCheese Burger Meals along with a McSpicy™ Fried Chicken Sharer Bucket (available in McDonald's India South) and making an unforgettable World Cup memory. You can always stop by a McDonald's near you and enjoy the match with others at the restaurant. Have lots of fun with your near and dear ones at home by ordering your match time sharing meals through the McDelivery® app or the McDelivery® website. Get the McDonald's app for more offers and deals on a Chicken Burger Meal, match day meals, and other meals at McDonald's.