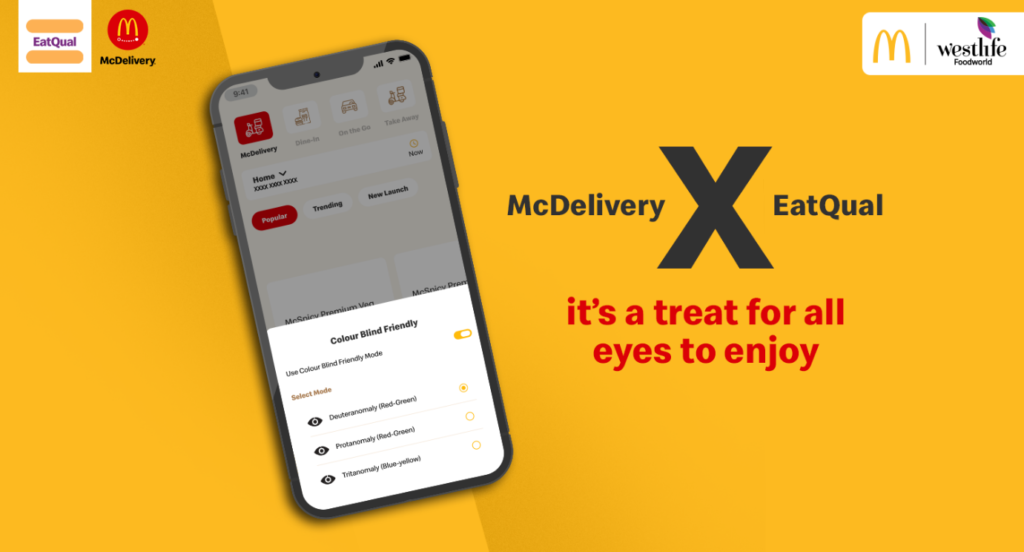 Often, we don't realize that we consume food through multiple senses. It could be the smell of freshly fried Fries or the texture of Cheesy Veg Nuggets that makes your mouth water. The same is true when you order food online, where you eat with your eyes first. Yes, the item that catches your eye and makes your mouth water is what you would go for. It's the textures, plating, and colors of the food that entice you. But for nearly 70 million people in India, it's not the same. That's because this part of the population has color blindness. They don't view food the same way as their color deficiency removes or reduces the natural tones of food and decreases its appeal. Sometimes, making it difficult to know veg from non veg through the icons.
At McDonald's India (W&S), our goal has always been to create a space for all, and with the EatQual initiative, this has only meant achieving it. You might remember the eatqual packaging, right? This World Sight Day, McDonald's McDelivery® app has come up with a latest upgrade, where food is not only accessible but also appetizing to all.
The app's newest color blind friendly feature is a first of its kind, ensuring that those who are color blind can also have an easy and wholesome experience.
Consumers can opt from three color enhancement options: 'Green-Red', 'Red-Green', and 'Blue-Yellow', and a special algorithm displays the menu in colors appropriate for the user. This lets them see the real colors of the burgers, wraps, light bites, desserts, and beverages, which in turn helps them thoroughly enjoy the experience, and make an informed decision about their meal.
In light of this new initiative to make McDonald's truly a place for all, Mr. Arvind R.P., Chief Marketing Officer, McDonald's India (W&S) adds, "We at McDonald's are on a mission to make delicious feel-good moments easy for everyone, and we literally mean 'everyone'. Born from this mission, our EatQual campaign underscores our commitment to breaking down barriers, ensuring that every customer is able to access the brand easily, feels welcome and has a great experience every time they choose to eat with us. Recognizing that we 'eat with our eyes first' and acknowledging that color blindness is a widespread reality, we took the initiative to make our McDelivery® app more accessible. We hope those facing color blindness enjoy using this new feature to see appetizing images of our food before ordering, just like all other consumers".
To show how the new McDelivery® app feature makes viewing your favorite burgers, treats, and beverages a whole lot better, here's a heartwarming brand film by McDonald's.
Did you know that 1 in 12 men has color blindness? And did you know that your favorite comedian, Kenny Sebastian, is one of them? He is red-green color blind. Catch him talking more about this in his usual quirky and effortlessly funny self in the video below.
https://www.instagram.com/reel/CySe5JyKvVG/
Adding more to the conversation, Kenny also states, "It is truly gratifying to partner with an iconic brand like McDonald's on this initiative that makes its services more inclusive and accessible to color-blind people like me. I am sure the McDelivery® app experience will now become more enjoyable. I look forward to using the feature to view scrumptious food images on the app before making my pick."
India has the world's highest color blind population. And, you are probably wondering how much more color blindness can affect a person's relationship with food. To fill you in on all that you're looking for, take a look at this panel discussion that is robust with insights on the campaign.
With EatQual initiatives like the eatqual packaging and new app upgrade, McDonald's India hopes to take the lead in adopting and inspiring practices that promote accessibility and inclusivity for each and every customer. You can always stop by a McDonald's restaurant near you to relish a hearty meal and a warm welcome. Feel free to place your order on the McDelivery® app or the McDelivery® website at any time. For more information on McDonald's new packaging, deals, and offers, download the McDonald's app.