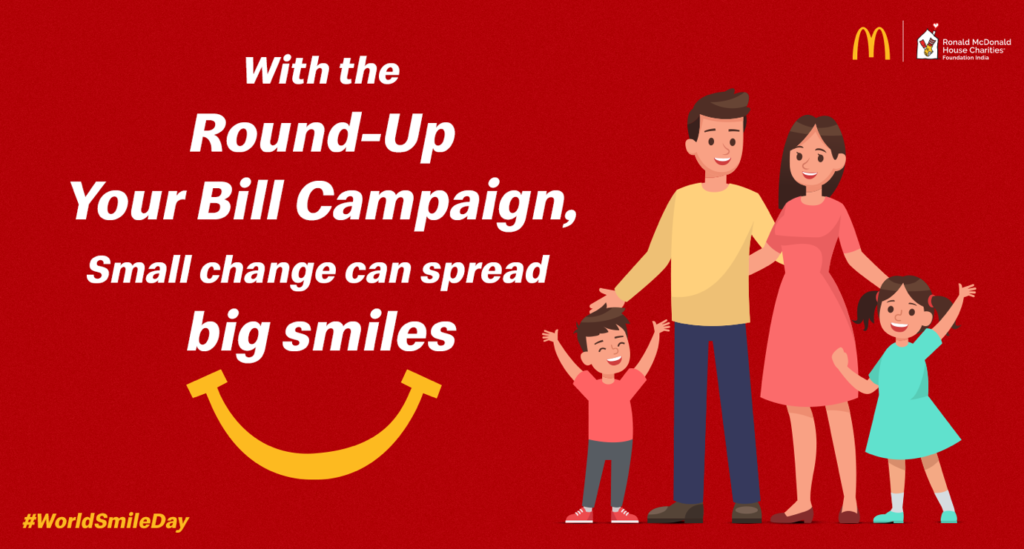 In an effort to have a day brimming with genuine smiles and acts of kindness that bind human beings together, World Smile Day was established. During this #McDCommunityMonth, we hope that every experience leaves every customer with a happy smile. It could be with the joy of McDonald's Happy Meals, trying something new, revisiting classics, taking pictures with Ronald McDonald, and many more.
Making someone smile is such a wonderful thing, and with McDonald's, you can help spread a smile on the faces of so many people. Especially those people who are bravely battling cancer. It is something very easy for you to do that helps them with their difficult journey.
By rounding up your total bill to the nearest ten, the remainder is donated to RMHC India. This balance is used to provide support to families whose children are undergoing cancer treatment. Since 2016 RMHC India has been focusing on #KeepingFamiliesClose through the Ronald McDonald Family Room (RMFR), at the Bai Jerbai Wadia Hospital, Mumbai.
RMFR is a patient-friendly ward in the Outpatient Department of the Paediatric Haematology-Oncology. The children and families for whom the room has been created hail mostly from rural parts of India. They have had to travel miles away from their home in order to give their children the medical attention they need. Their situation has not only put a physical strain on them but also a mental strain on them. With the RMFR, they have space to relax and unwind with their children. This family room facilitates various activities, such as toys, clean and hygienic play activities, interesting books for children to read, a reliable medical environment, and also emotional support for parents. A waiting room and refreshments area for families, along with a play area for kids, are included in this space. Furthermore, the hospital is equipped not only with top-notch equipment but also with excellent medical staff who provide medical and psychological assistance around the clock.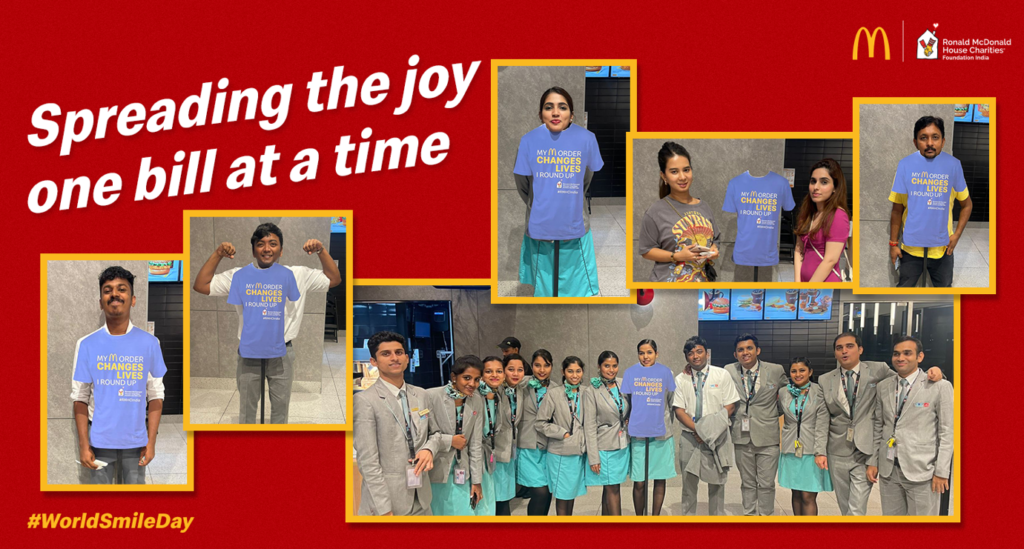 So many of the McDonald's customers have volunteered to #SpreadSmiles by rounding-up their bills. Their small change has created a big impact. Over 16,000 individuals have rounded up their total bill to the nearest ten in just 7 days of the campaign launch. If you would like to be the reason for someone else's smile, whether you buy a McChicken meal or a Happy Meal® at McDonald's, simply ask the front counter to round-up your total bill.
This World Smile Day, stop by your nearest McDonald's store in West & South India and have an amazing meal while #SpreadSmiles! You can always donate a small amount you order your favourite McDonald's items through the McDelivery® app or the McDelivery® website.