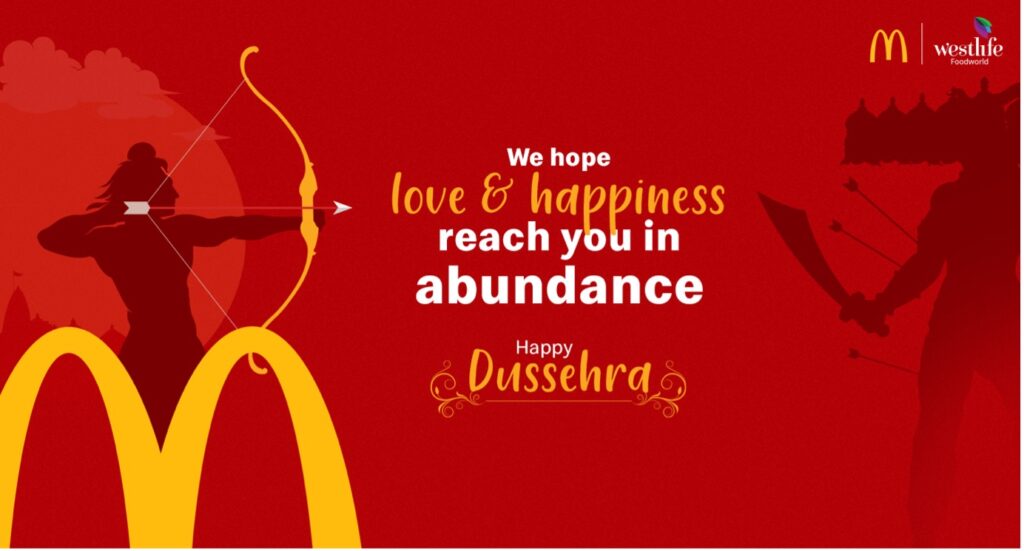 McDonald's wishes you a joyous and prosperous Dussehra! Every day of the nine-day celebration has been packed with so much goodness, and the tenth day will be no less! Each day had an awesome offer, which is going to be topped with a spectacular union of all nine offers. How cool is that? Auspiciousness and togetherness seem limitless, with joy in abundance. The festivities bring people together, and this definitely calls for yummy food for all. Prayer meets, venerations, reunions, get-togethers—there is so much happening, and you need a lot of food to keep you energized through it all. And the McDonald's veg menu with top picks like a Piri-Piri McSpicy paneer burger is the perfect choice for the occasion.
Literally everything you need is there at McDonald's. Let's start from the beginning. Starters have to be there so you can go for some Fries, Cheesy Veg Nuggets, Masala Wedges, and Mexican Cheesy Fries.
Then, in the main course, there's the new Cheesy Italian Burger Veg that you definitely have to try. As you know, there's something for everyone at McDonald's. That's why we have the Jain Friendly menu, which has the McCheese Burger® Veg, Classic Corn Cup Fresh, McFlurry™ Oreo, Satvik Ketchup, and the Classic Cheesy Dip. And the no onion no garlic menu includes the Piri Piri McSpicy™ Burger Meal. There are other types of burgers you can opt for too: McAloo Tikki Burger®, McVeggie® Burger, McSpicy™ Paneer Burger, Veg Maharaja Mac, Mexican McAloo Tikki Burger®, Corn & Cheese Burger, and McSpicy™ Premium Veg Burger.
Gulps of refreshing drinks are a must. You can go for: Chilli Guava Coke, Chilli Guava Sprite, Masala Pop Coke, Masala Pop Sprite, Strawberry Chiller, Green Apple Chiller, Lemon Chiller, Chocolate Shake, Strawberry Shake, Mango Smoothie, Mixed Berry Smoothie, or Berry Lemonade Splash Regular.
And of course you have to end it with a delectable dessert. There's Oreo Sundae, KITKAT Sundae, Black Forest McFlurry™, Chocolate Express Cake, Blueberry Cheese Cake, Soft Serve Strawberry, Brownie Hot Fudge, Soft Serve Hot Fudge, and the new KITKAT McFlurry™ with Brownie.
Each of the nine days of Navratri had a special offer. There was something new in store every single day. All you had to do was download the McDonald's app and be prepared for a wowlicious time! If you have missed out on this, not to worry; the excitement has not ended. On the last day, all nine offers will be available at the restaurants. It's like a buffet of special deals waiting for you to grab them. What are you in the mood for? Burgers? Beverages? Light bites? Perhaps some desserts? Well, you can have any of them or even all of them. Download the McDonald's App right now.
This is the perfect opportunity to have a blast with your friends and family. You can say your farewell to the nine nights on a delicious note. It's an offer like no other for a festival like no other, so don't be late and make the most of it.
Stop by your nearest McDonald's store to avail this one-of-a-kind deal. Download the McDonald's app to be updated on the latest news, information, burger combo offer options and discounts on favorites like a paneer burger McDonald's. If you would like to have your meal delivered to your doorstep, the McDelivery® app and the McDelivery® website is at your service.
Once again, Happy Dussehra!