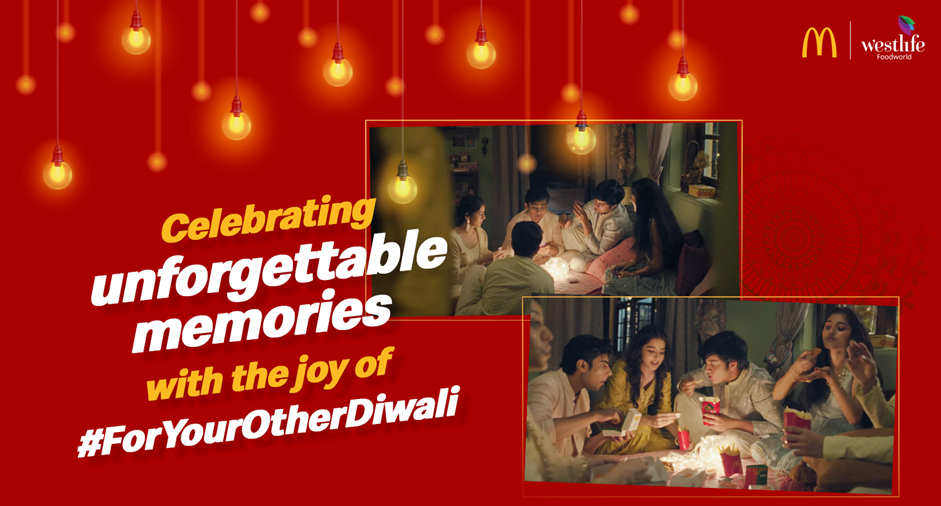 The most awaited time of the year is on its way. No doubt, your preparations have begun, and so have ours. While you started with the cleaning, buying, rearranging, decorating, planning for gifts, and more, at McDonald's, we're working on how to make your Diwali even more special. We love being a part of every big and small celebration of yours, and this one is the biggest yet, so count us in as well. New launches, offers at McDonald's, efficient delivery—you can expect it all.
Festive times are about togetherness, and with so many happy times already enjoyed, McDonald's is the perfect companion. But when you think about it, there are so many moments that might seem very simple but become the most memorable part of this season. It could be a group selfie with cousins you reunited from abroad, your little niece or nephew making a Happy Diwali card for you, opening a new mithai box, or wearing the clothes you searched the entire market for and finally finding them. These kinds of joys are what make home in your heart forever. And #ForYourOtherDiwali, McDelivery® and offers at McDonald's are just a swipe or a click away.
These are cherished moments that become forever memories, and a meal with McDonald's offers would make it all the more memorable.
Catch how this group of cousins get their order in hushed voices as compared to the loud celebrations. The thrill, excitement, and joy is something that always brings a smile. It's the cousins wali Diwali; take a look:
How sweet was the cousins wali Diwali? Shuffling and dealing a deck of cards, bickering over the rules, and winning the game has a whole different vibe during Diwali – the age old tradition. Relish the joy #ForYourOtherDiwali with McDonald's and McDelivery® by your side. It could be meeting your deadline before its due and rewarding yourself with a super yummy Chocolate Shake with Fries for a no assignment wali Diwali. If you have planned a night full of cheesy rom-coms with your homies, enjoy the movie wali Diwali with Cheesy Italian Burgers and a refreshing Chilli Guava Sprite.
Also, there are so many amazing offers at McDonald's that make these moments even better.
Be it the massive festivities or the little celebrations of your own, #ForYourOtherDiwali, McDonald's is with you. Whether it's your bedroom window or a Ferris wheel, McDonald's is at your service. Feel free to have your favorites brought to you wherever you are with the McDelivery® app or the McDelivery® website, along with delicious McDonald's offers you can avail. For more information, news, updates, deals, discounts, and offers at McDonald's, download the McDonald's app.