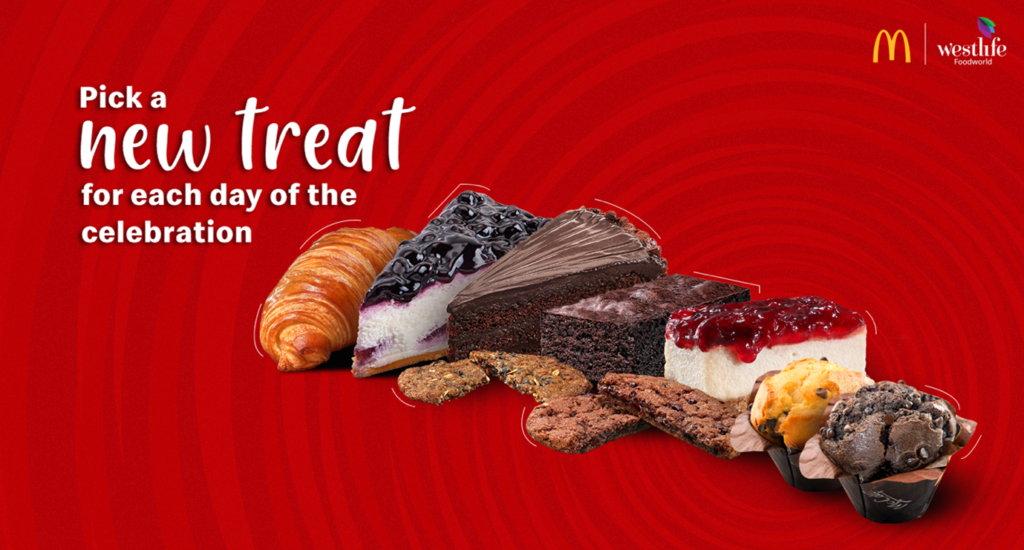 The festive season is in full swing, and while you have been hustling and bustling, McDonald's too has been preparing to make your celebrations special. Every happy occasion in India is honored with something sweet to eat. You've loved the treats and desserts at McDonald's like a KITKAT McFlurry™, right? And since there is no happier time than now, McDonald's India has launched the McCafé® Bakery and Sweets. This new menu has been crafted keeping in mind your tastes and preferences. They are chocolatey, cheesy, chewy, crunchy, buttery, fluffy, tangy, and…so yum! You just have to try them.
At McDonald's, we are constantly experimenting and innovating to give you the very best of experiences. Festivities are the time to delve into sweets, so don't wait any longer to dig into these oven-fresh treats.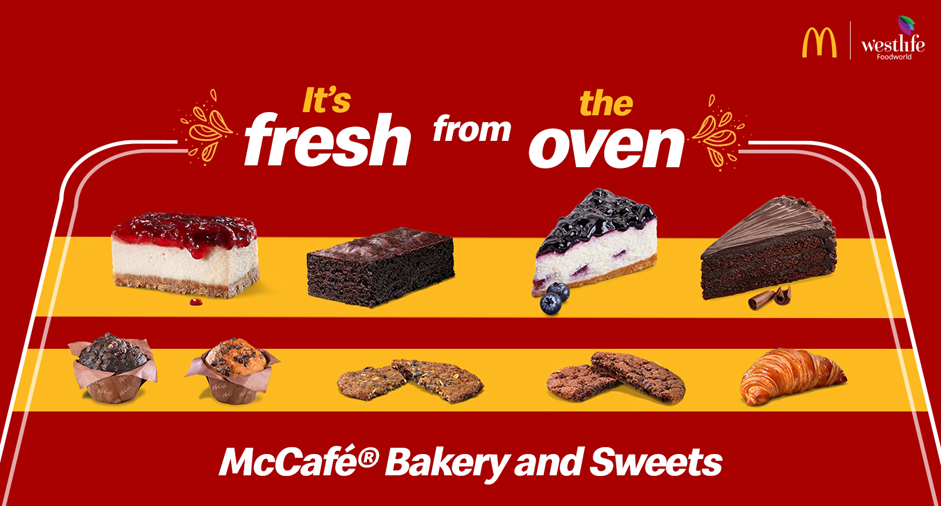 Choco Brownie
Fair warning: many have found the Choco Brownie to be quite irresistible. It's the chocolate brownie cake with the soft and velvety texture that has the right amount of sweetness and is skillfully and perfectly baked.
Strawberry cheesecake
Oh, it's hard to say no to a cheesecake. Especially when it's the harmony of strawberry flavor and creamy, dreamy cheese that simply melts in your mouth.
Choco crunch cookies
If you like your munchies to be crunchy, this one's for you. Crunchy cookies packed with rich chocolate chips. Isn't your mouth already watering?
Oats & Raisin Cookies
The wholesome combination of oats and raisins in a textured and chewy cookie is definitely something to be reckoned with.
Signature Croissant
Say bonjour to the buttery and flaky goodness of a signature croissant that's truly a class apart.
Blueberry Muffin
It might be difficult to overlook the burst of fresh blueberry flavor in a moist and fluffy blueberry muffin.
Lemon Muffin
Well begun is half done, and the tangy-sweet taste of the Lemon Muffin is a refreshing way to start your day.
Chocochip Muffin Test
If you love the McDonald's KITKAT McFlurry™, you'll probably love this too. It's a soft treat that's generously filled with melted chocolate chips—a pure delight for chocolate lovers.
These have been launched in select stores in McDonald's West and South. And oh my, they already have loyal fans! It's your turn to grab a bite and lose yourself in their sweetness.
Don't miss out on the latest McDonald's inventions. Catch the new and delightful treats from McCafé® Bakery and Sweets at a McDonald's restaurant near you. You can always get your meals brought to your doorstep by ordering through the McDelivery® app or the McDelivery® website. Download the McDonald's app to stay on top of deals, discounts, and offers on treats and desserts at McDonald's, like a KITKAT McFlurry™, and other news or updates.