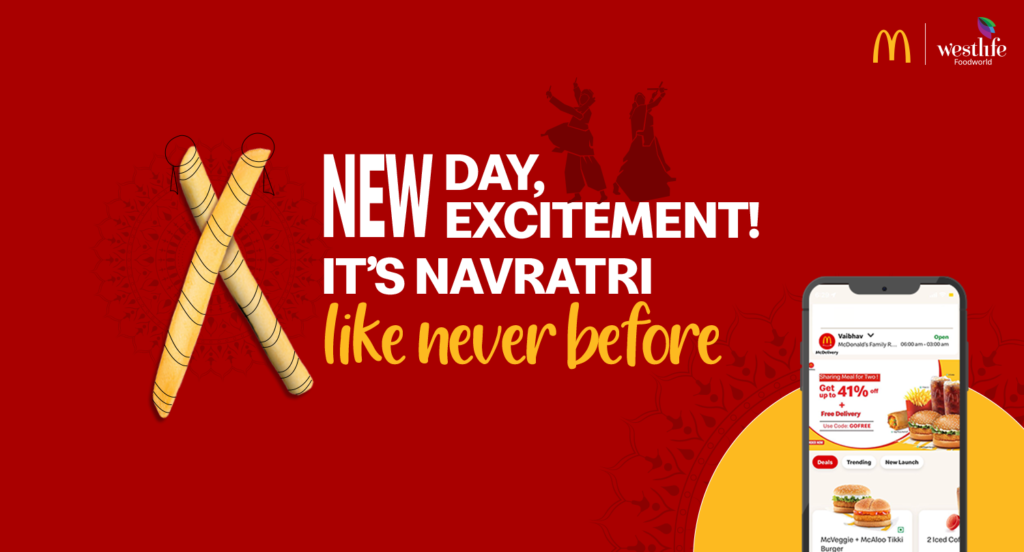 The festive season seems to arrive with magic in the air. Family, friends, rituals, gifts, pictures—gosh, there is so much going on. And as you already know, here at McDonald's, we like to be a part of your celebration as well. And we have kept this secret for far too long, but now it's time to spill the beans. Hope you're ready for it!
This Navratri, we're taking festive fervor to a whole new level with the McDonald's app offers! Your classic go-to orders like Fries, McAloo Tikki Burger, a Pizza McPuff, some Cheesy Veg Nuggets, and others will be just ₹ 99 for 9 days aligned with Navratri colors. Pick any burger, any light bite, any dessert, or any drink, and it will all be at a rate that you'll only be lovin'.
The f in festivities must stand for food because the McDonald's app offers have got some more delicious news for you! Each color of Navratri will bring in a different excitement. Every day and every hue has something new, and we can't wait for you to experience it.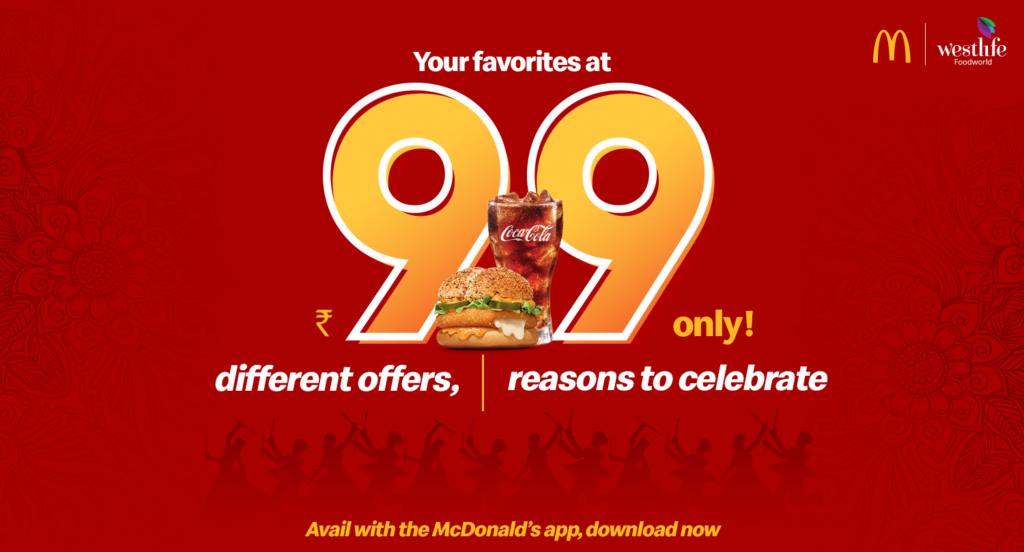 Every single day of Navratri, there will be a new surprise. Each day will have a different offer, and you won't know it until the day arrives. That's right, it's like waking up to a new gift every day for nine days. All you have to do is keep your eyes fixed on the offers on McDonald's app and stop by a McDonald's near you to avail the offer. It's going to be a celebration full of goodness, joy, and the thrill of knowing that each day is going to be unlike the other. Could all the veg burgers have a special discount? Or, perhaps it's a day all about the cheese menu? You never know what it's going to be, so make sure you download the McDonald's app right away.
If you thought that was awesome, hold on; there's more. Along with the deals unique to each of the nine days, something massive awaits. On the tenth day, all nine McDonald's app offers will be valid in stores. Yes, yes, yes! It's something new every day and a grand union of all at the very end. It's bidding adieu to Navratri with a bang.
If you want to grab a bite after music and a fun-filled garba night with friends, family or colleagues, a drive with your cousins, or a family get-together, McDonald's is here for you with deals you won't be able to deny.
With your favorites at just ₹ 99 offer to look forward to every day, this Navratri is really going to be special. Download the McDonald's app to stay tuned for the McDonald's special Navratri offers and head over to your nearest McDonald's restaurant to avail them.