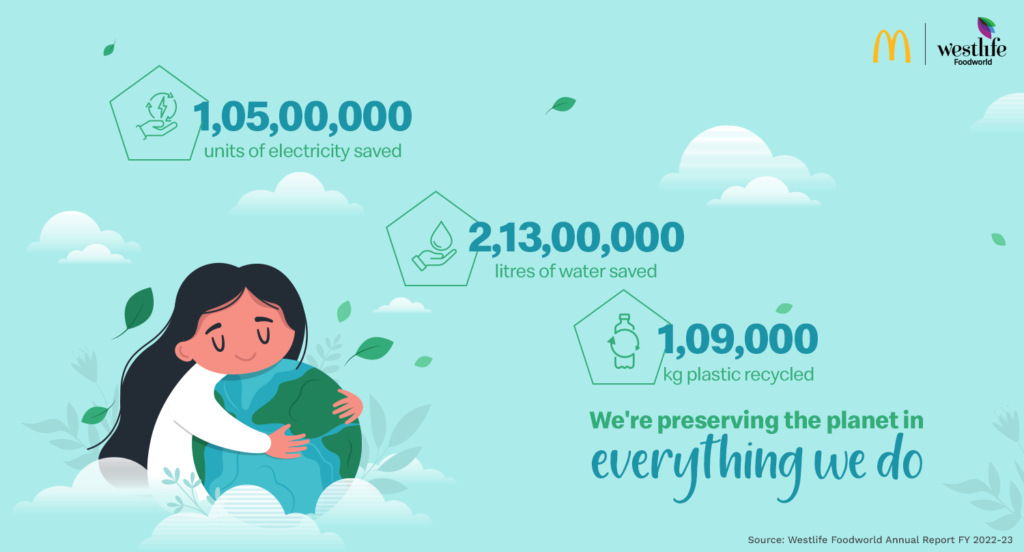 World Environment Health Day, celebrated on September 26th every year, offers a platform to raise awareness and motivate actions to protect human wellbeing by improving the environment's health.
With environmental concerns rising every day, it is important that we do everything in our power to take care of the planet. At Westlife Development and McDonald's, we do our very best to make sure to not only address the situation but also take measures and make a positive change. A simple yet significant example would be the eco friendly packaging. No single-use plastics are used, and McDonald's drinks are delivered in EZ reusable delivery bottles.
In fact, the steps taken by our chain of restaurants throughout the country have led to some very big numbers that you will be happy to hear.
In FY 2022-23, we saved:
1,05,00,000 units of electricity with smart conserving systems
2,13,00,000 liters of water with optimized usage
1,09,000 kg of plastic with eco friendly food packaging
Let's take you on a tour of how exactly we achieved this.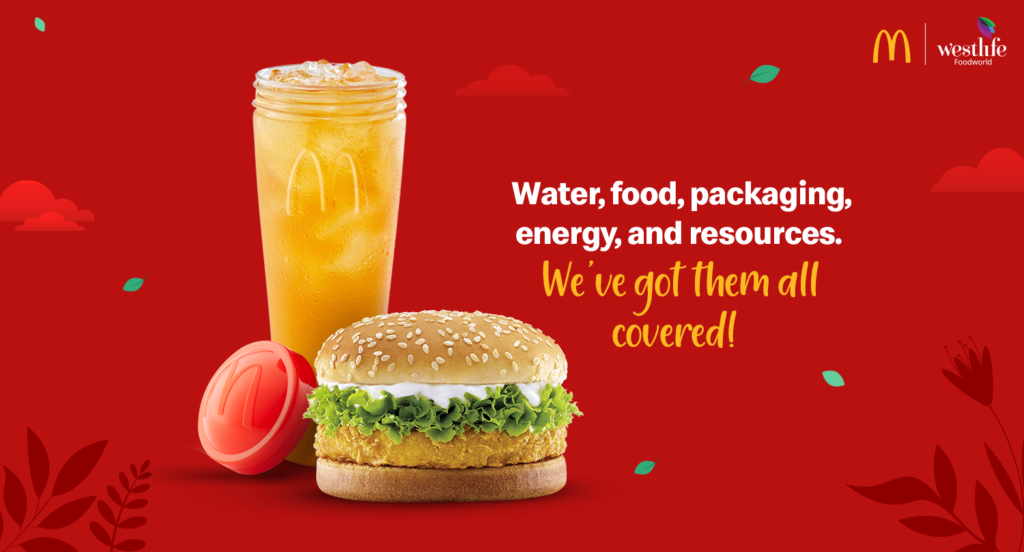 Westlife stands firm on its four principles of sustainability: Replace, Recycle, Reuse, and Reduce. And these ideas shine through each of our endeavors.
Optimal Water Usage and Saving
Installation of waterless urinals and low-flow aerators in the restaurants
Repurposed RO reject water
Installation of a high-water recovery reverse osmosis system
Agricultural Remedies
Promoting crop rotation and protecting soil freshness
Implemented the use of Rainforest Alliance-certified coffee beans, one of the world's foremost leading programs for sustainable coffee and cocoa farming
Introduced protected farming for the tomato crop to enhance food safety
Improved cold storage for onions, reducing wastage by nearly 2%
Promoting biodiesel across the board
Reused cooking oil as per standardized guidelines
Pioneered the use of converted biodiesel in transportation
Measured oil properties and discarded as prescribed
Pooled used oil from 100 restaurant locations and converted it into biodiesel. 99% of discarded cooking oil is recycled by converting it into biodiesel
We graduated to 100% biodiesel use in our trucks
Packaging that's beneficial to all
Prioritized the use of eco friendly packaging with paper or biodegradable material (corn starch)
Eliminated the use of single-use plastic in eco friendly food packaging
Implemented the use of FSC-certified paper for eco friendly food packaging
Beverages are delivered home in eco friendly packaging
Replaced plastic cutlery in restaurants with more environment-friendly alternatives
Streamlining Resources
Adopted responsible agricultural practices that are validated by McDonald's Corp
Continue to explore futuristic agricultural technologies (hydroponics) that can moderate finite land use
Promotes drip irrigation among resource providers to enhance resource efficiency
Other energy conservation initiatives
Implemented an Energy Management System in 309 restaurants
Installed air conditioning with remote auto-on/off and temperature cloud controllers
Installed auto-on/off controllers across the ten highest energy-consuming kitchen equipment
Installed evaporative air-cooling kitchen systems and economizers
Used LED bulbs and order assembly table sets; installed solar rooftop panels in one restaurant
Installed motion sensors to control store back area lighting consumption wastage
Replaced the old module RO with a high-efficiency and low-power-consumption RO (reverse osmosis) system
As one of the biggest names in the QSR industry, McDonald's is aware of its role and does its part in taking care of the earth and, subsequently, its inhabitants. We are making significant and strong strides towards sustainable practices, with an estimation of becoming carbon neutral by 2050. The next time you visit a McDonald's restaurant, know that both you and the environment are our top priorities. Even when you get your meals home delivered from the McDelivery® app or the McDelivery® website, they will reach you in an eco friendly packaging. For more information on eco friendly packaging boxes, deals, and offers, download the McDonald's app.