At McDonald's, we pride ourselves on the fact that this is a place for everyone. You can be a burger-holic, a cheese lover, a dessert enthusiast, a caffeine aficionado, or simply someone who can't stop eating Fries, no matter what, McDonald's has got you.
This not only applies to tastes and preferences but also to the budget. With the McSaver menu, meals at McDonald's come at a super pocket-friendly price. The deals are so good that you will be saving more while you spend. Pretty awesome, huh? All you have to do is take yourself and your loved ones to the nearest McDonald's restaurant and relish a meal that is more for less.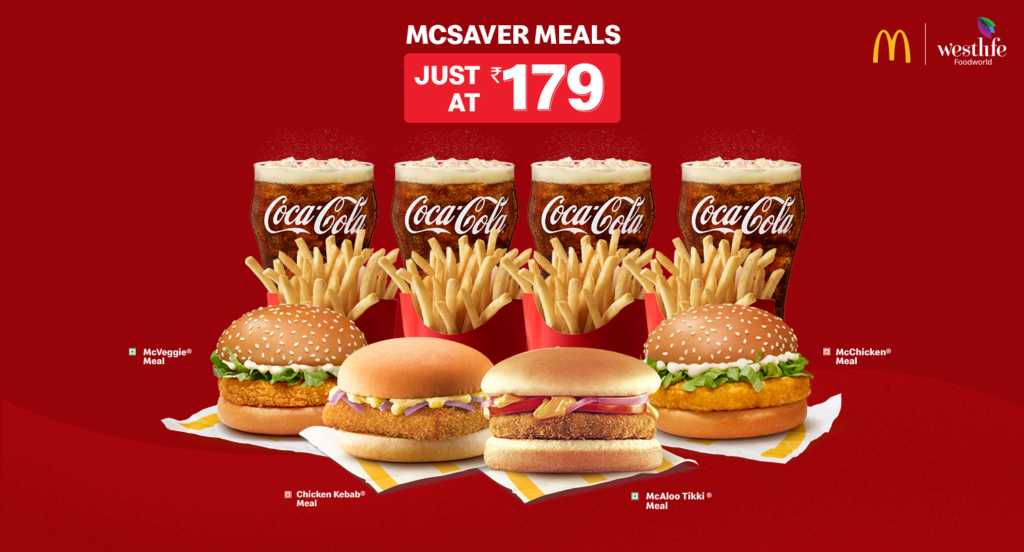 The McSaver menu comes with delightful options at amazing prices that truly make you happy. It is the kind of feeling when you find money bills in the pocket of a pair of old jeans!
As you savor your meal, you will also be saving, and what is better than that?
Let's take a look at the unbelievable McSaver meals at McDonald's that are available for just ₹ 179!
McSaver McVeggie® Meal
Relive the classic McVeggie® experience with a delectable patty cooked to perfection with potatoes, peas, carrots, and tasty Indian spices that are layered with fresh, crunchy lettuce and mayonnaise. You will find this burger with some irresistible Fries and a Coke beverage on the side.
McSaver McAloo Tikki Burger® Meal
Does the McAloo Tikki Burger®'s popularity ever fall? This desi burger with a dash of Indian spices has made a place for itself in every heart. The crunchy potato and pea patty topped with crunchy onions and delicious Tom Mayo is totally something to look forward to. Hot and crispy Fries with a Coke beverage are also included.
McSaver McChicken®Meal
Enjoy the tenderness and juiciness of this wowing chicken burger patty that comes with layers of fresh, crunchy lettuce and creamy mayonnaise. The classic McDonald's Fries and a bottle of Coke also come with this super-duper pocket-friendly meal.
McSaver Chicken Kebab Meal
This delicious burger comes with a juicy, succulent, and flavorful patty that captures the taste of everyone's favorite chicken kebab. And to make it even better, you get hot, evenly cut, fried to perfection Fries and a chilled Coke too.

With the McSaver meals available in store, there will be savings in every bite. Take your near and dear ones to your closest McDonald's outlet for a meal that fills your tummy and your pocket. You can also get your favourite meals, sides, desserts and coffee at your doorstep through the McDelivery® app or the McDelivery® website. For more deals and discounts on your favorite meals, download the McDonald's app.