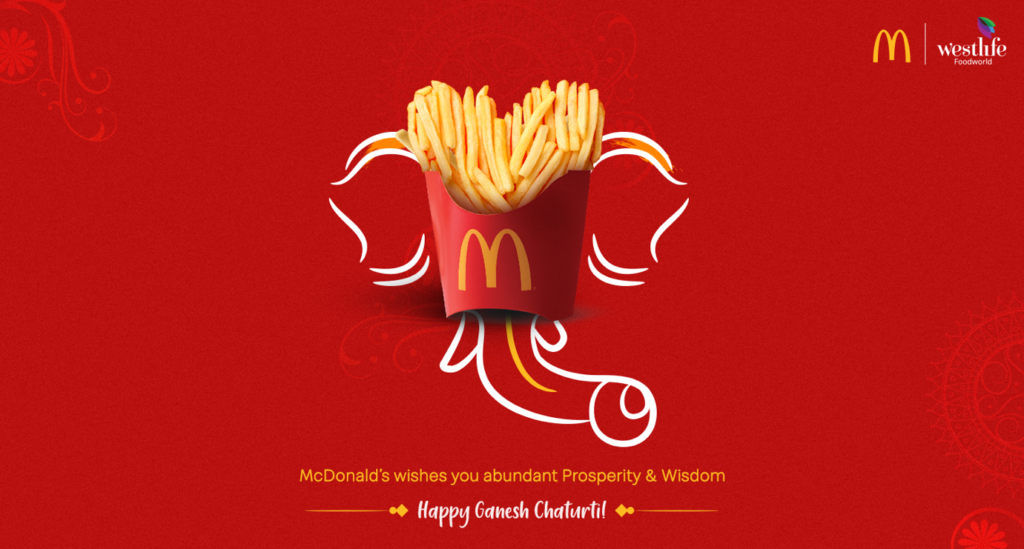 We hope that good fortune and happiness reach you and that obstacles are cleared from your path. As the festive season is upon us with the arrival of Ganesh Chaturthi, what also begins is the festive celebration and get-togethers with families, friends, and loved ones. On this note, McDonald's wishes you a very happy Ganesh Chaturthi. This occasion calls for near and dear ones to unite and celebrate this auspicious time with full fervor. And guess what? McDonald's is also with you during these blessed times.
During the festive season, many devotees abstain from certain foods as a means of being more spiritually in touch with the occasion. And with McDonald's, you can do so without missing out on wholesome and delicious meals.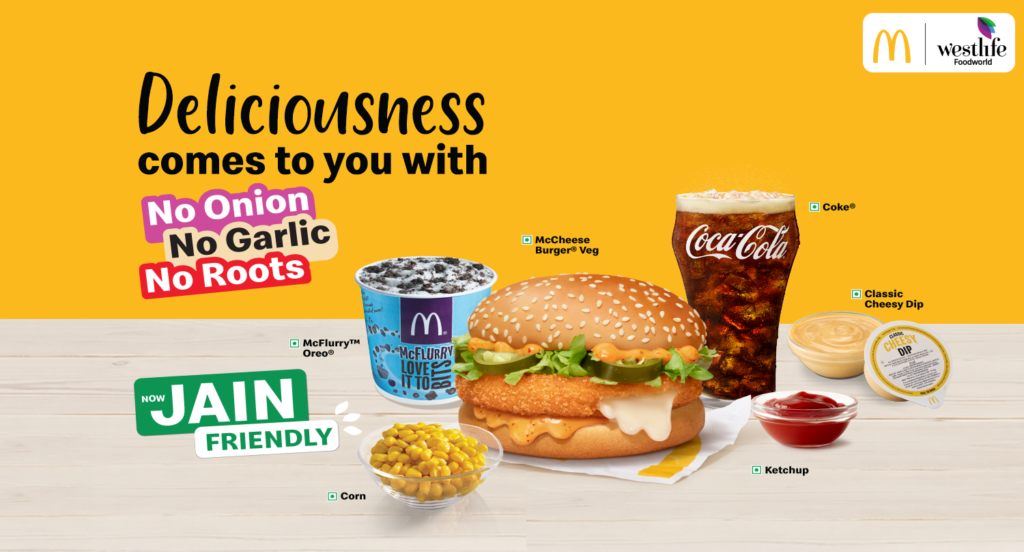 Dig into McDonald's Jain Friendly Menu and No Onion – No Garlic Menu
Keeping the festive season in mind, McDonald's has many options.
McDonald's Jain Friendly Menu
Based on your preferences, you can opt for the Jain Friendly menu that carries no onion, no garlic, no roots, which includes the McCheese Burger® Veg, Classic Corn Cup Fresh, McFlurry Oreo, Satvik Ketchup, and the Classic Cheesy Dip. There's also an entire Jain Friendly McDonald's Meal: McCheese Burger® Veg, Classic Corn Cup, Medium Coke, Classic Cheesy Dip, and McFlurry Oreo (Small) to delight you!
McDonald's No Onion – No Garlic menu
McDonald's caters to different tastes and observances while keeping the yummy quotient intact. For those who would prefer a no onion – no garlic meal, there's the Piri Piri McSpicy ™ Paneer Burger Meal. A filling Piri Piri McSpicy™ Paneer Burger with no onion and no garlic that holds a spicy paneer patty, Piri Piri creamy sauce, and fresh, crunchy lettuce between sesame buns. To add to it is the Coke and Fries combination. The ketchup is also Satvik and carries no onion or garlic.
Vegetarian options galore on the McDonald's India (W&S) menu
When you are preparing for the celebration and running last-minute errands, you can drop by a McDonald's to have an indulgent meal. You can opt for great tasting veg burgers in McDonald's that is in tune with your dietary regulations. Or, even if you have guests over, you can serve them these yummy treats.
There are lots of other options that you can go for as well. Nearly every burger has a vegetarian counterpart that you can relish. The McDonald's veg menu has McAloo Tikki Burger®, Mexican McAloo Tikki Burger®, McVeggie® Burger, McSpicy™ Paneer Burger, Big Spicy Paneer Wrap, Veg Maharaja Mac, Corn & Cheese Burger, Fries, Veg Pizza McPuff®, Mexican Cheesy Fries, and Loaded Masala Wedges. Add a refreshing drink from McCafé® and make your meal even better.
Another fact that could be of great value to you is that McDonald's India has two separate kitchens for preparing the McDonald's veg menu and the non-vegetarian menu. Rest assured that you can have the veg burger at McDonald's without worrying.
Festivities are a time of togetherness and creating lots of memories. With McDonald's by your side, make as many of these as you like.
For a lovely meal experience during your celebrations, do stop by your nearest McDonald's restaurant. There is a lovely range of items waiting to be enjoyed by you and your loved ones. You can always order in from the McDelivery® app or the McDelivery® website and bring the party home. For offers, deals, and discounts on the McDonald's veg menu and the best vegetarian burger options, don't forget to download the McDonald's app.
Happy Ganesh Chaturthi once again!