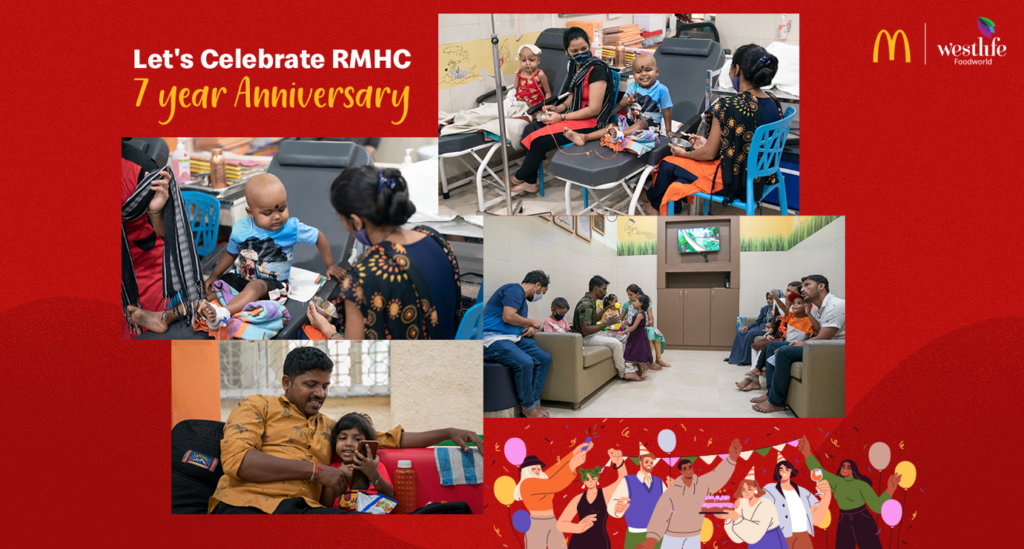 McDonald's India is not only about happiness felt by eating yummy food, in fact, it has a lot to do with happiness received by sharing with those who need care and support. Yes, this is about Ronald McDonald House Charities India.
Ronald McDonald House Charities India (RMHC India)
Established in 2016, the Ronald McDonald House Charities Foundation India (RMHC India) provides care services for families who have children battling critical illnesses. Support is provided, both within and outside of hospitals and medical centers, completely free of charge. The vision of RMHC is to have a world where all children have access to medical care, and their families are supported and actively involved in their children's care.
Ronald McDonald Family Room (RMFR) at BJ Wadia Hospital, Mumbai
Spanning across 60 countries and regions worldwide, RMHC's extensive network is making a big impact on families' lives on a global scale. The India chapter has established the Ronald McDonald Family Room (RMFR) in partnership with Bai Jerbai Wadia Hospital, Mumbai for children and their families. It is in the ward of the Outpatient Department of the Paediatric Haematology-Oncology department.
RMFR is a welcoming space for families of those children who are undergoing medical treatment at the hospital. Most of the children and their families that frequent the RMHC Family Room, come from remote, rural locations in India, where there aren't up-to-date healthcare facilities. The comfortable space brings families together and can serve as a community that can cope better. The space has proven to help those who wish to take a break from the stressful hospital environment. The room offers activities for children to engage in – reading books and playing with toys, an improved medical environment, emotional support for parents, clean and hygienic play activities for kids, and the ease to relax. There is also a waiting room and refreshments area for families, and a play corner for children. The hospital is well-armed with doctors, nurses, etc. who not only provide 24-hour assistance and care medically but also psychologically.
RMHC India completes 7 years
Since inception, we have benefitted 19,000 kids and over 39,200 lives, ensuring that they have a comfortable medical journey, which is indeed gratifying. As RMHC was getting close to the seven-year mark, it also hosted its first Care Conference to share information on the prevalent cancer biases, inspire change, and encourage an understanding and supportive community environment.
Wondering how you can be a part of RMHC story through your favourite McDonald's?
It's simple. You can continue to do what you love doing – visit McDonald's near you and enjoy your McDonald's favorites. Just one thing, you've got to 'Round-up your total bill' to the nearest ten and your change will be donated to RMHC India. Yes, that's how you can extend support to this initiative. That's how you can help in #keepingfamiliesclose of children battling cancer.
If you feel like you need some help in getting this done, feel free to ask the person at the billing counter, and they will be happy to assist you. You can also carry out this step at the digital self-ordering kiosk (SOK). Every rupee counts and you can see the difference each and every thought, action and rupee has made!
Come, be a part of the 7 year RMHC Anniversary celebration, visit the nearest McDonald's outlet to you, or choose to McDonald's order online through the McDelivery® app or the McDelivery® website.