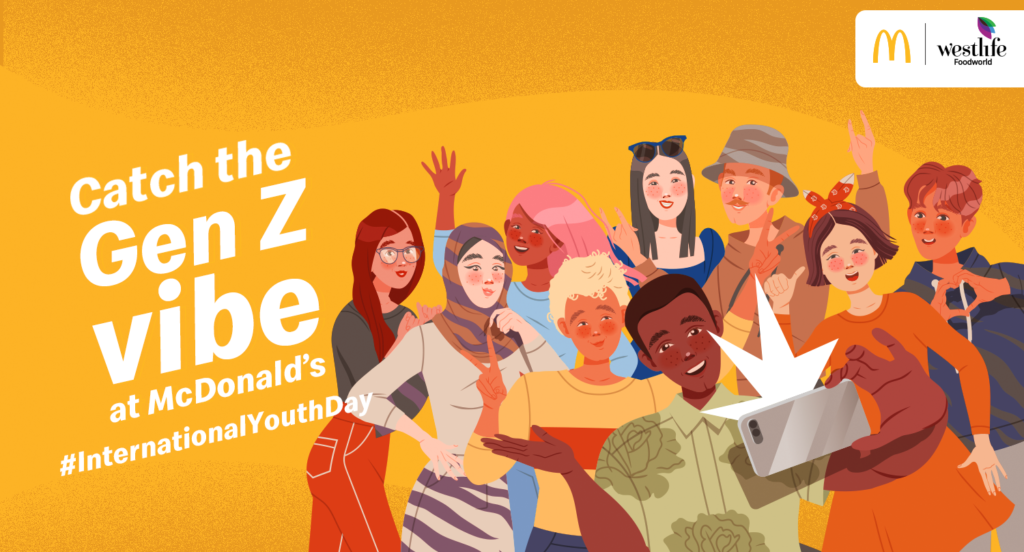 Hey, did you know that August 12 is observed as International Youth Day? It is a very special occasion at McDonald's, you know. Though McDonald's is a place for everybody, it has definitely been a part of the hangout culture for the youth. Study sessions, after-school meet-ups, post-exam stress-busting, first dates, McDonald's has been a part of so many memories.
With all this young energy, funky new words like CEO, dank, and rizz are totally in the air. And, we've got to talk the talk, so take a look at which of these fab Gen Z ways of expressing is your go-to.
But first, we need to pass the vibe check. No, no, it is not a document or a pass. It is just a way to measure the mood of a place. For example, a huge reason why everyone loves McDonald's is because it has good vibes only!
When the vibe is so good, food – awesomely delicious, what can one expect. Goes without saying, the burgers are freakin' bussin.
The staff's customer service rizz, short for charisma, also adds to the wholesome experience. Their help, assistance, and hosting are so on point!
You can flex to your pals how awesome the Chicken McNuggets are! It is not muscle talk, but just showing off what a great time you had.
Once you flex, they'll definitely experience FOMO, the Fear Of Missing Out, and will want to stop by McDonald's ASAP. Yup, As Soon As Possible, they'll want to get their hands on McSpicy Fried Chicken.
Everyone is in love with the menu, because no cap, there is something for everyone. Not talking about accessories here! No cap means dead serious, not lying. For example, there is no cap, no onion, garlic, or roots in the Jain Friendly Menu.
Yeah, the McCheese Burger Veg from the Jain Friendly Menu slaps. Whoa, you might think, "What's this violence?" But, but, but, it just means that it is insanely amazing. Let's give it another go. If you are in love with cheese, Cheesy Veg Nuggets will totally slap.
Credit where credit is due; this tasty food is the artwork of the super duper pro chefs. In the Gen Z world, they would be called the CEO of the kitchen because of the out-of-this-world Chicken Maharaja Mac and more!
You know, another reason why McDonald's is so loved is because of its dank services. Quick delivery, convenient drive-thrus, clean and hygienic restrooms, and now an airport drive-thru as well. It is premium, top-class, high quality, or you could just say that it is dank.
Also, when you order in, have you noticed how drip the packaging is? It is cool, simple, and convenient! And delicious drinks like the Chocolate Shake come in EZ reusable delivery bottles.
If you have planned to have a McDonald's meal with your bestie, they might have some tea to spill. No, not a Strawberry Green Tea. They could come bearing hot news or gossip that will make you gasp and go wide-eyed.
And when you are at McDonald's, how can you forget the GOAT snack—fries? Hands down, undebatable, it is the Greatest Of All Time.
This new vocab is dope, right? Discover these fresh words while you enjoy a yummy meal at your closest McDonald's restaurant. You can always get it home delivered from the McDelivery app or the McDelivery website. For deals and discounts, download the McDonald's app.
Keep slaying!