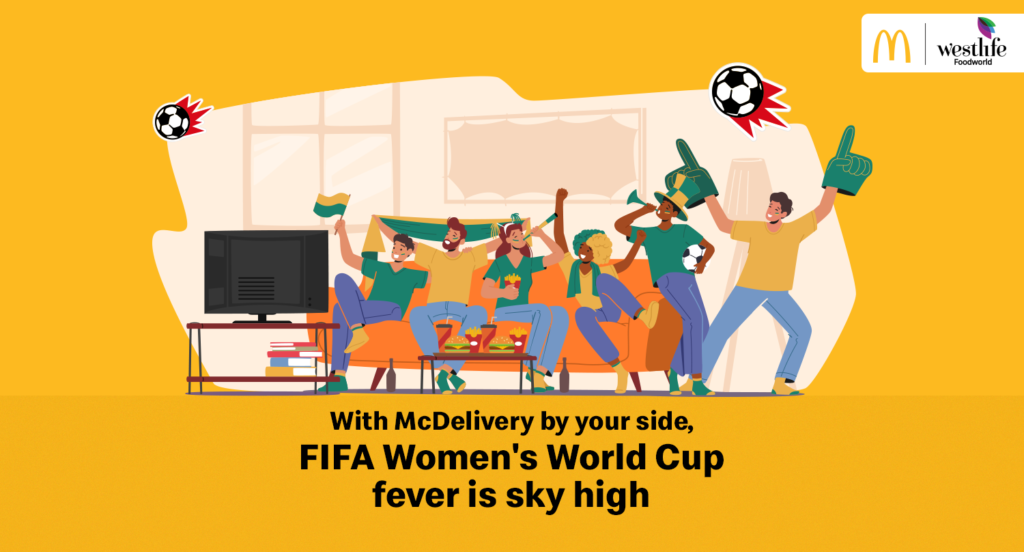 The Women's FIFA World Cup is well underway! With some exciting matches and a whole lot of goal scoring in the first two weeks, it is certainly living up to its expectations. Sport has always been an activity that brings people together. No matter what your family background, hobbies, or professions are, the shared passion builds a supportive and enriching community.
All you need are your near and dear ones, a big TV screen, and lots of yummy food, which, of course, McDelivery® is here to get to you. So, savor and relish the chatter, banter, and cheering with indulgent treats.
To enjoy this season of football amidst the rain, try out McDonald's brand new entrants. The McSpicy™ Chicken Sharers (available in the south region), Piri Piri McSpicy™ Burger Paneer, Piri Piri McSpicy™ Burger Chicken, Piri Piri Big Spicy Wrap Paneer, and Piri Piri Big Spicy Wrap Chicken. Make the experience amazing by adding a sweet note to the winning moments by pairing it with the exciting beverages: Masala Pop Sprite, Masala Pop Coke, and Chilli Guava Sprite.
These monsoon months are tailor-made for 5-a-side turf matches. Football is the one sport that is not hampered by rain, but the rain actually makes the experience much more fun. And, you can make it even more amazing by ordering food from McDelivery®.
Everyone knows that there is no substitute for sharing snacks and meals with friends. And with the World Cup matches playing on the telly, sit back and relax on the couch, because you've deserved it. It's a time for friends and family to come together and share the joy of viewing football on the big screen. Don't forget to get your favorite McAloo Tikki Burger®, Chicken McNuggets®, Fries, and beverages for the whole gang.
The women's game has been making major strides in the recent past, and the future looks bright. Come out in numbers to cheer the women on and follow the campaigns of your favorite teams.
If you're feeling the FIFA fever, make it hotter with the beyond yummy meals at McDonald's. You can also order in and have it delivered straight to your house for an interruption-free viewing experience with the McDelivery® app and McDelivery® website. There are plenty of offers waiting for you, and you can make your selection by downloading the McDonald's app.