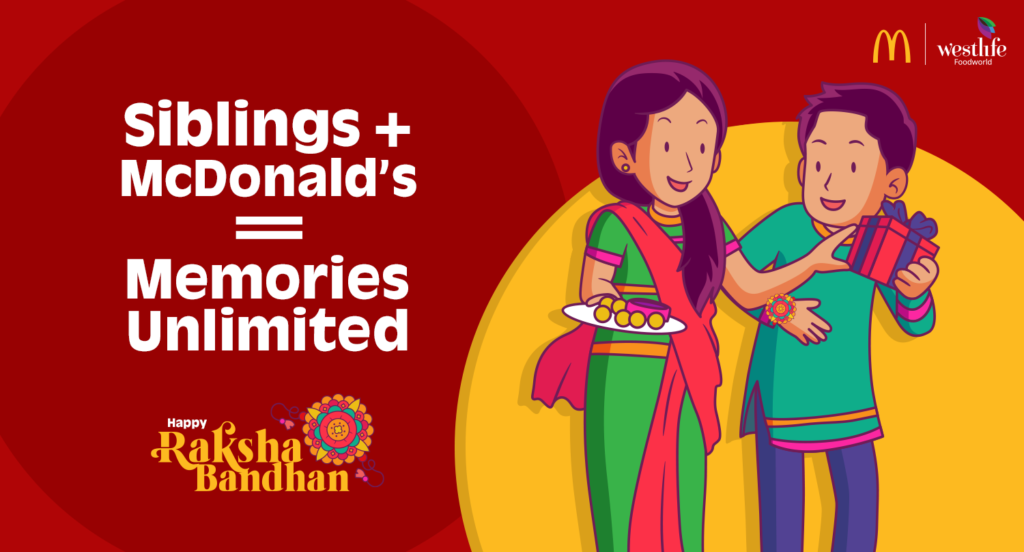 Rakshabandhan, the festival venerating the sacred bond between siblings, is evidence of the enduring strength of these relationships in the face of constant change. As the festive season approaches, McDonald's is creating a tapestry of nostalgia and family unity by inviting all types of siblings to relive special moments and enjoy their renowned menu items.
Festivals like Rakshabandhan remind us to slow down, reflect, and appreciate the relationships that make up our lives in a world that frequently moves too quickly. McDonald's Rakshabandhan celebrations are a lovely ode to all kinds of siblings and the numerous ways they celebrate their bonds. It's an invitation to enter McDonald's and travel back in time, where siblings' laughter and the aroma of their favorite meal mix and where the threads of love are entwined, exactly like that of a rakhi. This Rakshabandhan, let McDonald's serve as the setting for your nostalgic sibling celebrations and allow the bonds of love and kinship to renew.
For the duo that's inseparable, they can enjoy the classic burger and fries experience with the McSpicy™ Paneer Burger and McSpicy™ Chicken Burger. It's a tribute to siblings who have grown up side by side, sharing secrets and creating a treasure trove of memories together.
For those siblings who may not be able to meet in person, McDonald's Filet-o-Fish and signature Fries are an apt choice. No matter which part of the world one might be in, these two items will always be on the menu.
Those who revel in memories of bygone days can have the classic McVeggie® or McChicken® burger that reminds siblings of their carefree days, or the Happy Meals that once brought smiles to young faces, or toys that ignited boundless imagination.
If you are siblings who are polar opposites but have found common ground in their differences, the new Masala Pop Coke and the Chilli Guava Sprite are the perfect embodiment of your imperfectly-perfect balanced relationship. Just as McDonald's offers a variety of options to cater to different tastes, this combo celebrates the beauty of contrasting personalities.
McDonald's Rakshabandhan celebrations aren't just about the food; they're also about making memories that matter. These are celebrations of the laughs, squabbles, and shared experiences that make the sibling bond so remarkable. Whether it's the flavor of a favorite burger that brings back memories from childhood or the straightforward act of dining together, McDonald's seeks to foster these priceless bonds.
Enjoy a memorable time with your siblings at a McDonald's near you. Or, you can always have a sibling party at home by ordering from the McDelivery® app or McDelivery® website. For deals and discounts on your meals, download the McDonald's app.