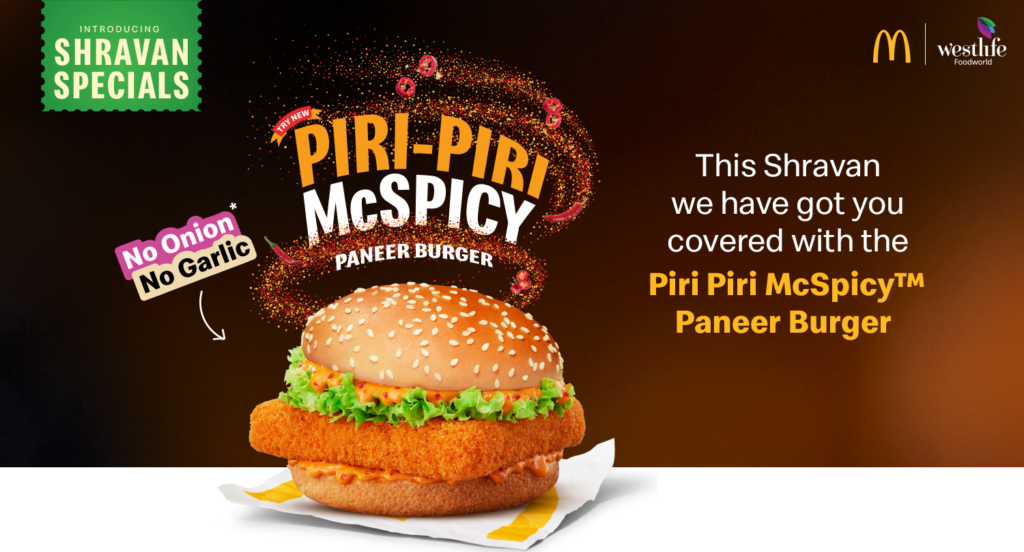 The skies might seem clear, but it is that time of year when you never know when the clouds will darken and pour over the earth. It is a reason to rejoice for the farmers! While the season is nearing its end, there is something unique about it this year.
As you know, the beginning of the monsoons marks the beginning of the Shravan season, a period of immense blessings. In 2023, however, we are experiencing auspiciousness like never before. For the first time in the last 19 years, Shravan celebrations are going to last for 59 days. This is a rare course of events that has brought the goodness of more happiness, prosperity, and good health.
Though the Shravan season has lengthened, undeniably, it is soon coming to an end. But you will be happy to know that the Shravan Specials are still available.
As you would already know, abstinence from onion, garlic, and non-vegetarian food is followed this month. But McDonald's never misses a chance to be part of any of your occasions and celebrations. And the Shravan Specials include items that are 100% vegetarian and are made without onion or garlic. Yes, you heard that right! It is a meal crafted especially for this occasion, and you will surely be lovin' it.
The Piri Piri McSpicy™ Paneer Burger Meal has it all. A delicious, indulgent Piri Piri McSpicy™ Paneer Burger with no onion and no garlic that has a spicy paneer patty, Piri Piri creamy sauce, and fresh, crunchy lettuce between sesame buns. Of course, Coke and Fries on the side! Oh, and guess what? We even have a condiment that is Shravan-friendly. The Satvik ketchup you can relish your Fries with also comes without onion or garlic. How much more awesome could it get?
Inclusivity was a key factor in creating the Shravan Specials. At McDonald's, we aim to make sure that no one feels left out. Watch actor and YouTuber Urmila Nimbalkar showcasing her love toeards the same.
https://www.instagram.com/reel/Cvzib0Nosx0/?igshid=MzRlODBiNWFlZA
Bid adieu to the Shravan season on a good and delicious note with the Shravan Specials from McDonald's. Savor the remaining days of this auspicious season at a McDonald's restaurant near you. Or, feel free to get your meal delivered home through the McDelivery® app or the McDelivery® website. For exciting deals, discounts, offers, and more, download the McDonald's app.