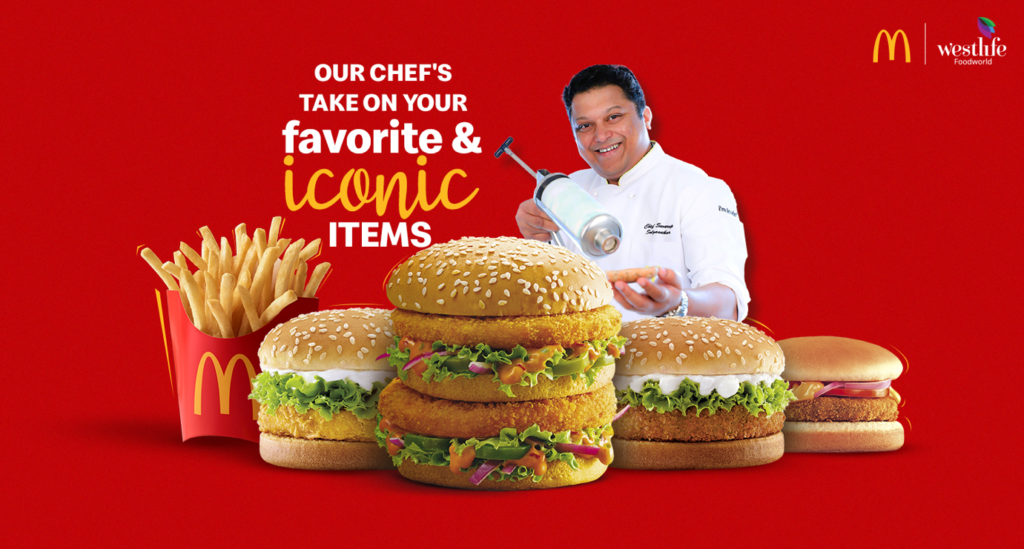 Over the course of more than 80 years, McDonald's has become a global success. And in India (West & South), it has been around for more than two-and-a-half decades, capturing the hearts of so many. There's no second guessing the fact that the way the food at McDonald's is crafted keeps you coming back for more. There is a taste you would have fallen in love with, a flavor you are head over heels for, and even the upbeat ambience puts you in a good mood, before you even know it.
When you think of McDonald's, certain items on the menu come to mind immediately, right? And these are the core elements of the McDonald's India identity.
In conversation with McDonald's very own Chef Swarup Solgaonkar, brought about a spirited discussion on how these iconic items have shaped the McDonald's experience. The memorable food and time that countless have enjoyed is linked to the familiarity of flavors, authenticity of ingredients while keeping the novelty of the McDonald's experience intact. And with the taste and ingredients, let's not forget, it's also the intent. McDonald's India is the only chain that has separate kitchens for veg and non-veg.
McAloo Tikki Burger®
The idea behind Aloo Tikki was to combine the desi palate with McDonald's global standards to give the ultimate delicious experience. This might come as a surprise to you – the fact that anar dana is the secret ingredient in the burger. Mindblown, aren't you? You would have never recognized it, but that is what gives it a distinct taste and maybe keeps you coming back for more(?) It is, in fact, the simplicity that has attracted so many over the years. And well, the McAloo Tikki burger itself is a balanced meal in that it provides energy or calories from proteins, carbohydrates and fats very near the proportions recommended by The National Institute of Nutrition, Hyderabad (in the Department of Health Research, Ministry of Health & Family Welfare, Government of India! Felt it already?
McVeggie®
You simply cannot think of a McDonald's classic without mentioning the McVeggie®. Chef emphasized the importance of providing a meal that takes care of the taste, preferences, and sensitivities of the Indian palate, and this burger does just that. It comes with a delectable patty filled with potatoes, peas, and carrots blended with tasty Indian spices, topped with crispy lettuce and mayonnaise, and packed into toasted sesame buns.
McChicken® Burger
Among the many favorites when it comes to food, chicken ranks pretty high as well. The McChicken® Burger is every chicken lover's dream. When you take a bite of the tender and juicy chicken patty that is cooked to perfection and topped with creamy mayonnaise and crunchy lettuce, your heart will sing out "para-pap-pa!"
Veg Maharaja Mac and Chicken Maharaja Mac
McDonald's India is proud to be the first to introduce many innovations with both the vegetarian and chicken options for the American Big Mac. Earlier, only the Chicken Maharaja Mac reigned. But when its popularity rose, Chef mentioned that they could see a vegetarian option coming as well. A corn and cheese patty inspired by the Indian starters was soon conceptualized. And now, the Veg Maharaja Mac and the Chicken Maharaja Mac rule side by side on the menu. Again, grounding to Indian roots while reaching new lines of flavorful innovations.
Fries
The love for Fries in India started at McDonald's. The evenly cut and perfectly fried Fries have captured the hearts of so many people nationwide. And no one ever comes to McDonald's and says no to Fries. It's a match made in heaven for burgers!
The well-crafted burger, fresh, locally sourced ingredients, and pure, authentic spices make McDonald's culinary experience absolutely exquisite. And that is why McDonald's is everyone's favorite!
Catch these iconic five at a McDonald's outlet near you. Or, order in from the McDelivery® app or the McDelivery® website. For offers and discounts on your meal, download the McDonald's app.