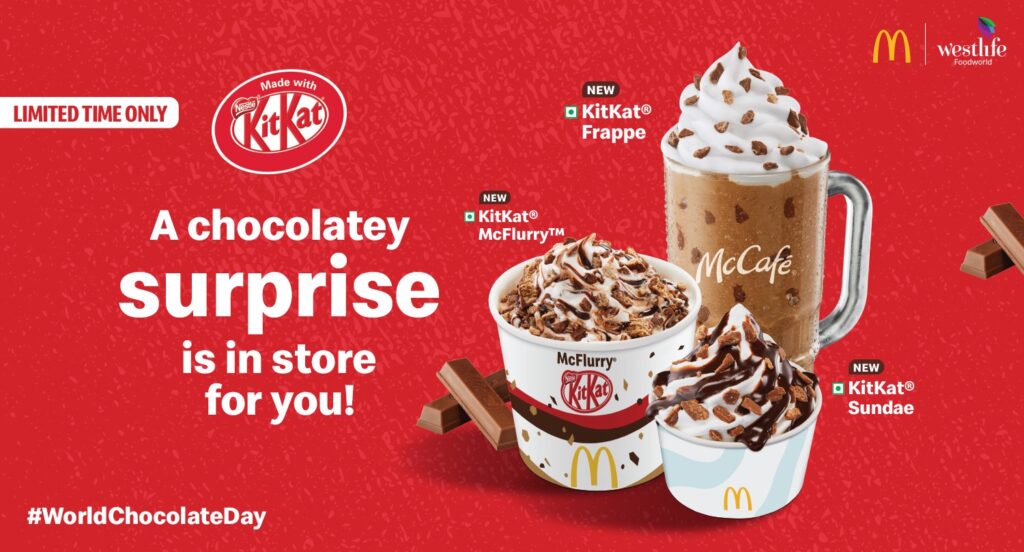 Birthdays, anniversaries, office parties, hangouts—McDonald's has been a part of so many of your memories. A wholesome meal when you are away from home, a cup of piping hot coffee on a rainy day, or treating your near and dear ones to unlimited fries because you got your first salary. Have you noticed that no matter what the occasion or the celebration, McDonald's is always there for you?
This holds true even on World Chocolate Day. Just thinking about chocolate puts everyone in a good mood, doesn't it? But we have some news that will put you in an ever better mood. On this awesome day, on massive public demand, we are bringing back your favorites. We heard you loud and clear and took action right away. That's right, the delicious range of KITKAT treats and beverages is making a comeback! The rich, sinful and heavenly flavor is here in three different styles: KITKAT Frappe, KITKAT Sundae, and KITKAT McFlurry™. Sounds like it is time to take a break, right?
The KITKAT lovers' love is so strong that the chocolatey McDonald's KITKAT range is back on the menu. But, bear in mind that they are here only for a limited time, so don't lose any chance to try them out! This enticing, relaxing, and delectable indulgence is yours to relish.
Since it has been a while since you last delved into this KITKAT treats, let's jog your memory.
The KITKAT McFlurry™ is a creamy milk chocolate topped with vanilla soft serve with swirls of crispy KITKAT bits. Now, the KITKAT Sundae comes with the classic vanilla soft serve, crushed KITKAT fingers, and chocolate fudge sauce. The KITKAT Frappe is another delightful treat. The robust chocolate frappe is blended with crushed KitKat pieces and crowned with dollops of whipped cream and some more KITKAT chunks.
Sweet, isn't it? Do you already feel your mouth watering? That is because chocolate is never a bad idea. Especially when it is the KITKAT range.
Now that you think about it…
It seems like you've got to hurry.
It is time to get your hands on the KITKAT McFlurry™!
Looking to feel special today?
Then there is no better reason to have a KITKAT Sundae!
Make your way to McDonald's right away.
And reunite with the yummy KITKAT Frappe.
Let's celebrate World Chocolate Day in a special way with the KITKAT milkshake range. Take your pick from the three awesome options at your closest McDonald's restaurant. Feel free to get it home delivered as well through the McDelivery® app or the McDelivery® website. For more offers, deals, and discounts on the KITKAT chocolate shake menu, download the McDonald's app.