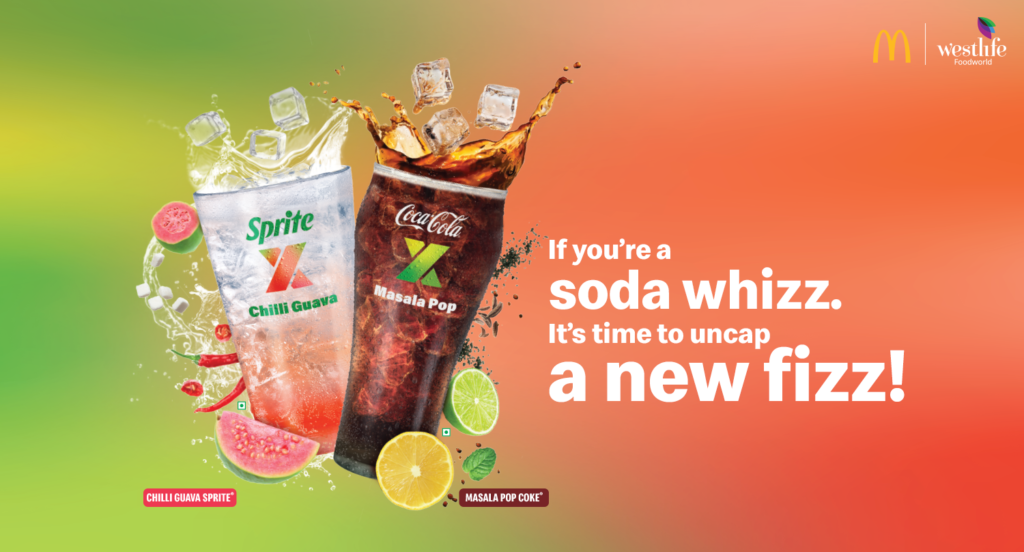 If you are a refreshing beverage enthusiast, then you must've surely heard of mixology. Yes, it is the finesse of letting different flavors fuse into each other for an artful delight to your senses. You must have witnessed and experienced these concoctions with spirited drinks. But guess what? You will be enjoying it with the new McDonald's beverages menu.
Now this is incredibly exciting! McDonald's India, in collaboration with Coca-Cola India, has been working on innovation in beverages. It is a stepping stone to creating a mixology platform in India.
This is a revolutionary blend of traditional Indian flavors with the classic essence of Coke and Sprite that comes with the 'Masala Pop X Coke' and the 'Chilli Guava X Sprite'.
Get ready for refreshing flavors of the McDonald's new non-alcoholic range that make you feel a whole lot at once!
The Masala Pop X Coke is an electrifying combination of Coca-Cola and a brilliant blend of tamarind, lemon, and a hint of spices—a toast to the Indian essence that will flood you with memories and experiences.
Chilli Guava X Sprite is an absolute treat to your taste buds, with the sparkling, effervescent Sprite balanced skillfully with the sweetness of guava sprinkled with spice.
The thrilling taste of the Masala Pop X Coke or the indisputable tanginess of the Chilli Guava X Sprite—both of these inventions are a reflection of our times. The new Mixology platform has been inspired by the millennials and Gen Z's chicness, personalities, and vibrance of expression. It is also the confidence of youth and their energy that translates into the new beverages.
Arvind R.P., Chief Marketing Officer, McDonald's India (W&S) said, "We feel the Mixology range is a bold testament to the boundless potential of beverage innovation when traditional Indian flavors meet the world-renowned fizzy drinks of Coca-Cola. At McDonald's India, we are committed to menu innovation and delivering value to the customers. We believe these new offerings will enhance our customers' dining experience with us."
And adding to these thoughts, Abhishek Gupta, Chief Customer Officer, Coca-Cola India and Southwest Asia, said, "We're really excited about this innovation – great to see our beverages come to life in a new way with familiar flavors that cater to the Indian palette and consumers who want to mix things up! The launch is a testament to the longstanding relationship between Coca-Cola and McDonald's and a joint commitment to creating new and refreshing experiences for our consumers."
Be it a wholesome burger, crispy fries, or some light bites, the new mixology menu pairs perfectly with them. Hurry and replenish yourself with the new mash-ups at a McDonald's near you. Or, you could also have a fizzy fun party at home by ordering in from the McDelivery® app or the McDelivery® website. For more awesome news, offers, and deals on the new McDonald's drink menu, download the  McDonald's app.