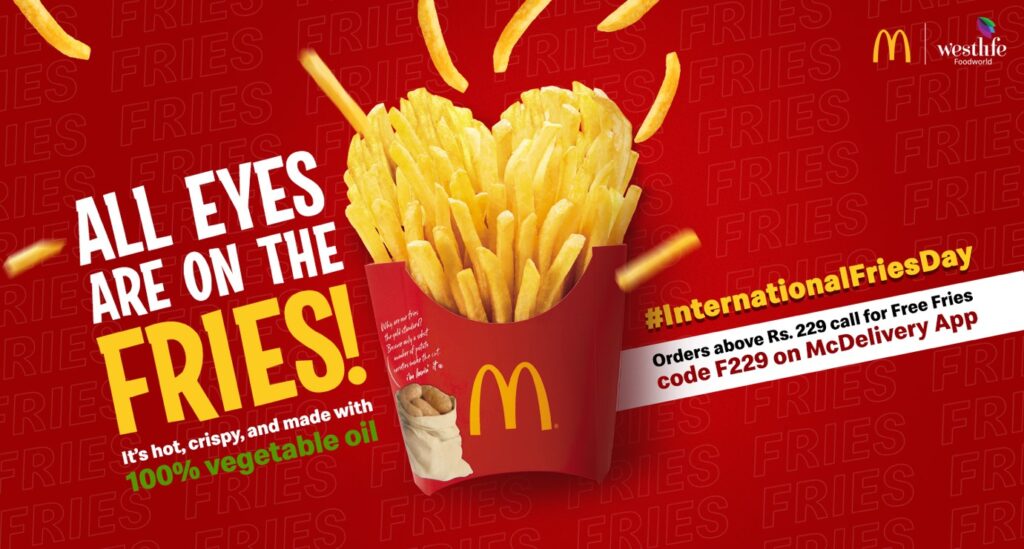 Fries. What an awesome word, and what an awesome word that rolls off so easily! It may seem silly, but one of the most undisputed universals is the undying love of fries. In fact, letting someone have the last of your fries is regarded as a heart wrenching but true act of love. Dear, oh dear, for something that surfaced in the 1700s, its popularity has only skyrocketed. And so much so that an entire day is dedicated to it. Yes, it is International Fries Day today!
But hold on. Another global truth is that when you think fries, you think McDonald's. It is especially the case in India because most people were introduced to it at McDonald's. Also, let's just face it, there is no other place that does fries better. Think about it…
The fresh, locally sourced potatoes are cut into uniform and even strips. Which are then cooked to absolute soft yet crispy golden-yellow perfection in 100% vegetable oil. The fries menu also falls under 'Real Food Real Good, as it has no artificial preservatives, no artificial colors, or artificial flavors. Which, of course, is finally served hot to you with the mostly heavenly aroma engulfing the air.
This versatile Fries, literally pairs fantastically with everything. Burgers and fries are always a good idea. Drinks and fries are another good idea. Mexican Cheesy Fries with other finger foods—good thinking again. McSpicy Fried chicken and McDonald's cheesy fries – whoa, that is a great idea too. No matter what, it fits like a glove. It is the perfect appetizer, side dish, snack, movie night munchies, and is mind-blowing even by itself. It is a superstar through and through!
To celebrate International Fries Day, McDonald's has some amazing offers in store for you. On all orders above ₹ 299, you can avail free fries by using the code F299 on the McDelivery® app. So go ahead and choose your favorite burger, dip, beverage, and dessert as well, and enjoy complimentary fries with them.
When it comes to fries, more is always a good idea. That's why, on this very special day, you can order two medium fries on the McDelivery® app for just ₹ 129. Share them with your friend/s or relish them all by yourself.
Aren't you lovin' it?
There is no better place than McDonald's to celebrate International Fries Day, isn't it? Stop by your nearest McDonald's restaurant to treat yourself to some amazing Mexican Cheesy Fries. Make sure to use the offers and deals on the McDonald's app, McDelivery® app and McDelivery® website.