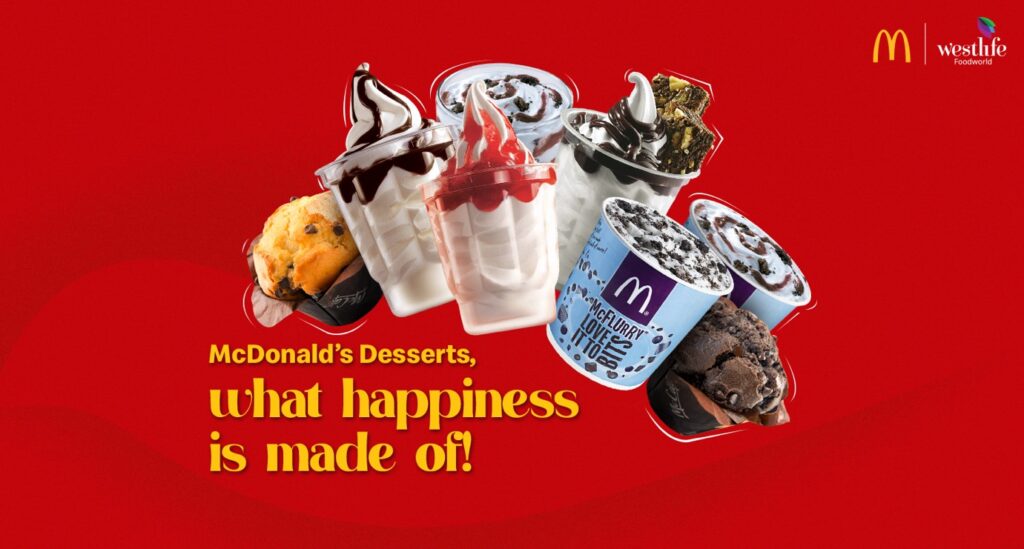 Massive and grand events are often regarded as those that deserve celebration. We tend to dismiss the happenings of everyday life as ordinary. Let's refresh this narrative. Fulfilling daily duties, making time for yourself, and taking up tasks that you have been pushing off: these are small victories that ought to be celebrated as well.
Joyful occasions are always honored with sweets, so why not do the same for everyday happiness?
Each happy moment, no matter how small, is significant to you. Make it happier with scoops and swirls of sweetness! The desserts at McDonald's are made for different moments of life. There is chocolate, vanilla, strawberry, and more. Choose what your sweet tooth loves the most.
There are so many moments encountered each day. It's a piece of cake to make it memorable. Go grab them!
When you wrap up your college assignment before the deadline, it calls for a pat on the back with a McDonald's dessert. Celebrate the sweetness of success with a Black Forest McFlurry™ for yourself.
A walk in the park with your pet by your side and a Soft Serve Strawberry in your hand is sure to put you in a good mood!
To blow off steam between friends who have had a falling out, a bowl of McFlurry™ with Oreo cookies can patch things up.
When the windy days of roaring skies cannot help but make you find a cozy corner. A Brownie Hot Fudge can warm you up.
Meetings, calls, and reports! Ah, it has been a long day at work. Nothing will soothe you like the rich aroma of hot chocolate with spoonfuls of Soft Serve Hot Fudge.
A delicious, big meal can really make your day. What you might not know is that there is always room for dessert, especially when it is desserts at McDonald's. So don't hesitate to get a Chocolate Chip Muffin or a Vanilla Chocolate Muffin!
Say cheers to your everyday moments with the McFlurry™ flavours and other desserts at McDonald's.
A sweet time with lots of sweet bites is a cakewalk into a McDonald's restaurant near you. You can also get the desserts at McDonald's delivered to your home through the McDelivery® app or the McDelivery® website. You can also enjoy delicious offers on McFlurry™ flavours by downloading the McDonald's app.