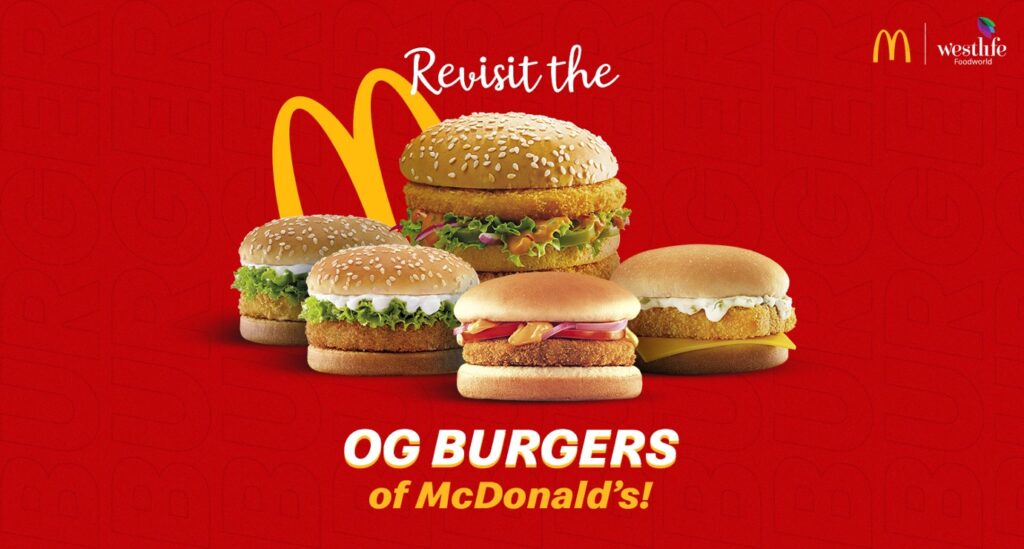 Classics enjoy an elite status. That is one of the massive reasons why, no matter in what context, they are always revered. Especially when it comes to food, a cherished taste opens the floodgates to a thousand memories.
Even at McDonald's, as much as everyone loves trying out new items on the menu, there are certain burgers that already have your heart. These classics, like a McDonald's Filet O Fish Burger, are so beloved because of the comfort they bring. It is a flavor that you are already fond of and is also nostalgic for many of your firsts at McDonald's. In a special way, it is your first love at McDonald's.
The classics never go out of style, so let's take a look at the OG burgers that have defined the McDonald's experience for so many:
McVeggie® Burger
When it comes to burgers,
Whether you are older or younger,
One is always ready
For a yummy McVeggie®!
Relish the wholesomeness of a patty filled with potatoes, peas, and carrots blended with tasty Indian spices. It is topped with fresh lettuce and creamy mayonnaise between toasted sesame buns.
McChicken® Burger
Remember when you fell in love with chicken once more?
It was the charming McChicken® you had asked for!
It is hard to forget the tender and juicy chicken patty that is cooked to perfection, with creamy mayonnaise and lettuce that adds the perfect crunch to every bite.
Maharaja Mac
Answer the Maharaja Mac's royal call,
for an experience that is majestic, proud, and tall.
There are never-ending layers of deliciousness with chunky patties that are topped with fresh jalapenos, onion, cheese, tomatoes, lettuce, and dressed with the classical Habanero sauce. These Maharajas come to you with both vegetarian and non-vegetarian options.
Filet O Fish Burger
When hunger pangs make you wish for an amazing dish,
relax and enjoy the indulgent McDonald's Filet o Fish!
This signature fish filet patty delights with the perfect balance of tartar sauce and a thin slice of cheese served between steamed buns.
McAloo Tikki Burger®
So many Indian hearts it has won,
That's been the magic of the McAloo Tikki Burger® since day one!
This desi spin on a western treat wows all with its crunchy potato and pea patty topped with Tom Mayo and fresh onions, now served with Whole Wheat Buns.
With some McDonald's Fries and Coke on the side, these classics get even better. So, what is your pick going to be?
It is time to revisit the good old classics and relive the experience of your many firsts at McDonald's. Head over to your nearest restaurant. Or, you can get your meal home delivered from the McDelivery® app or the McDelivery® website. For deals and discounts on your favorites, such as a fish burger McDonald's, download the McDonald's app.