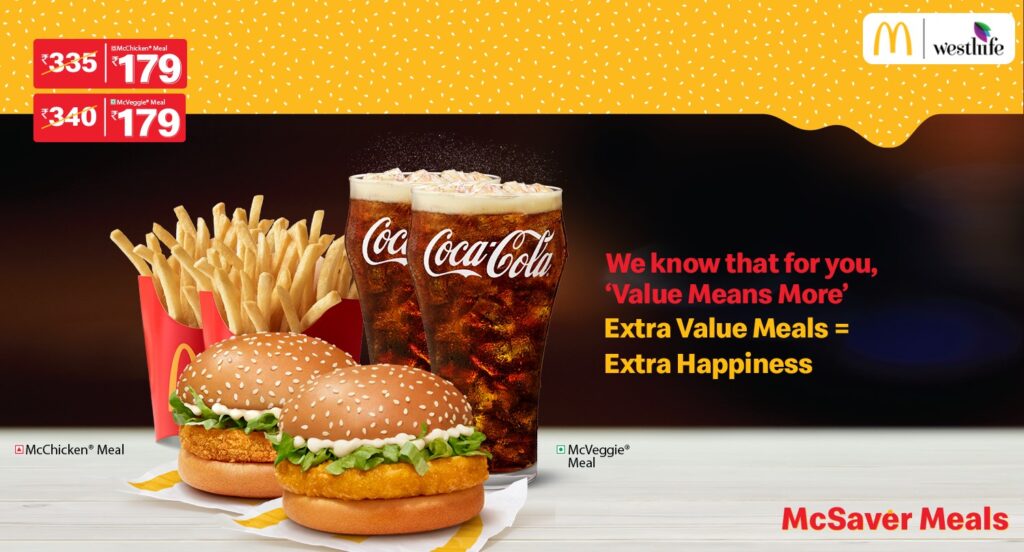 When you look into your treasure trove of fond memories, you find something common between them. Amidst all the joyful words and laughter, there is delicious food. The combination of a full heart and a full belly is always wonderful. Isn't it awesome how food is such a binding factor between people? Little do you know that the nom noms also contribute to the conversation and the moment.
For moments that are going to last a lifetime, nothing should come between them, not even money. And that is why McDonald's extra value meal range is here.
At just flat ₹ 179, there is so much that will make you feel good. A McSaver Meal is The-More-Than-A-Value-Meal. For all the many moments spent with different people who touch our lives.
The students who hang out for a cram session before the exam and also for a post-exam hangout as a stressbuster. All the parties—birthdays, anniversaries, get-togethers, office dinners. Playdates with mommies and their tiny McDonald's fans. For all these incredibly precious moments, take a look at these pocket-friendly and super yummy deals: McVeggie Meal, McChicken Meal, McAloo Tikki Meal, and Chicken Kebab Meal. It is all your favorite burgers with hot, crispy Fries, and a chilled coke. You can already feel your heart singing "para-pap-pa" right?
You know what the awesome part about the McSaver Meals at McDonald's is? It is not just that they give you savings in every bite, you can use them however you like. Don't believe it? Take a look at these two heartwarming moments. When you have turned into a pro at lullabies so much so that you can use any words to make up the song. The little bundle of joy is tucked away and asleep and you have a heart melting moment to reminisce.
You know what? There is lots more you get with your McSaver Meals at McDonald's. Every time you order it, you get to win a scratch card. Fun and cool stuff like life prompts, games, and illustrations are on it that add to the specialness of your moments. If your card asks who can take the biggest burger bite, then you can bring this alive and even capture it at the McDonald's in-store photo booth. Epic, right?
Oh, and one more thing. From June 8th to June 12th, all those who place their orders at 1 p.m., 7 p.m., and 9 p.m. get free McSaver Meals. Yes, you heard it right! So, make sure that you make the most of meals at McDonald's.
There is nothing in your way between you and your wowlicious food. Enjoy your #TrulyValuable McDonald's extra value meal at your closest restaurant.
Happy Eating!