"Everything that we have in our lives is purely based on expression, and that's what I strongly believe in. Hunger is an expression, and satiating that hunger is also an expression." These are the words of the mastermind behind your favorite spice. He believes that wholesomeness is the key and that reflects rightfully in the menu.
Yes, yes, yes! We have none other than McDonald's Corporate Chef, Swarup Solgaonkar. The soul-tingling deliciousness of the Piri Piri spice in the McDonald's menu is his brainchild. The way McDonald's popularized burgers in India, it was he who made the Piri Piri spice famous by adding this magical ingredient to the menu. This was such a massive success that he is hailed as the Father of Piri Piri.
When you have fries with Piri Piri Spice Mix, have you ever felt the whoosh of a hot flame traveling through your body? It is an exciting sensation that takes over you, and you simply can't get enough of it. Your tongue experiences an explosion of flavor, and your mind is still figuring out what this awesomeness is, and all you can say is "whoaaa". Fun fact: The McDonald's Fries is one of Chef Swarup's all-time favorites from the menu.
Now, let's give you a sneak peek of the creative process behind the dynamite of a spice. Piri Piri flavor was actually conceptualized in 2011 by Chef Swarup. He was working on an assignment for a spice festival, launching new spicy burgers. And he was adamant about introducing the Piri Piri spice. This led him to create a taste that is beautifully celebratory and indulgent. It almost mirrors the zing that the vibrance of India's culture has. Other food brands actually followed suit by including Piri Piri spice products after McDonald's set the trend.
It is also not just an amazing taste; it is a taste the Indians love. The chef brilliantly made the African delicacy palatable to the desi folk in the most seamless way. The essence of the spice is always maintained, but it is never without the tadka of cumin, garlic, onion, pepper, and salt. This rich pepper from the neighboring continent marries the contents of the Indian masala box without a worry. Adding to the authenticity of the spice is the fact that African Bird's Eye chili is actually imported from African countries that cultivate it. It is a multicultural treat right on your table! Don't you just feel like your senses are on an adventure when the Piri Piri spice hits you? Oh, the taste, the spice—you cannot even think of stopping after you take a bite! Earlier, this feeling was limited only to fries, but Chef's genius strikes again as four new entrants on the menu bear the flag of the flaming Piri Piri spice. Yes, now we have the Piri Piri McSpicy™ Paneer Burger, Piri Piri McSpicy™ Chicken Burger, Piri Piri Big McSpicy™ Paneer Wrap, and Piri Piri Big McSpicy™ Chicken Wrap.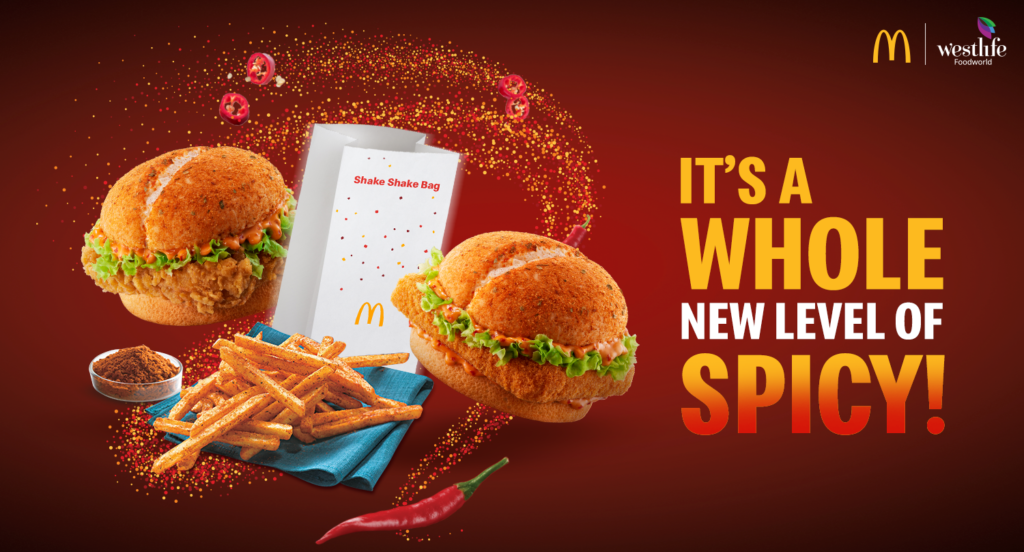 You'd be lying if you said that your tongue isn't already watering just thinking about a spicy chicken burger! Don't worry, it is totally natural because this fiery feeling has a fanbase like no other. The power of Piri Piri compels a craving unmatched. And hey! You are always just a McDonald's away from satiating it!
The Father of Piri Piri dreamed of giving the customers a higher experience. He adds that the secret ingredient to his Piri Piri recipe is understanding the love and emotion that people carry towards food. It is this secret ingredient that makes your meals, like a spicy chicken burger, all the more wholesome, with a taste that keeps taking you back to McDonald's.
The red, flaming, fiery flavor makes everything better, and you will always find it at a McDonald's near you. Visit your nearest restaurant or order in from the McDelivery® app or the McDelivery® website. For offers and deals just as hot and happening as a Piri Piri McSpicy™ Chicken Burger, download the McDonald's app.