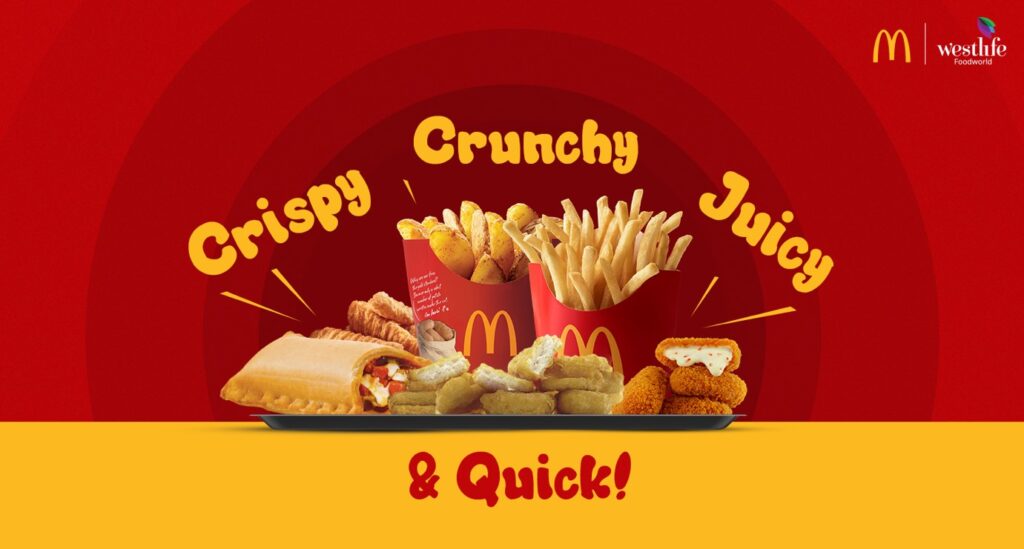 That time of the year has arrived when the skies begin to shower their mercy abundantly. There is roaring thunder, rhythmic raindrops, and a desire to stay warm and huddled up indoors.
There is something else that is also special about this season. It just brings out the professional snacker in you, right? Actually, when sunlight is blocked, the body's serotonin hormones drop, and as a natural response, you will want to eat something delicious, like loaded cheese fries. So interesting, isn't it?
The craving for munching on something is continuous. So for filling finger food options, you must take a look at McDonald's light bites. There are Fries, Mexican Cheesy Fries, Cheesy Veg Nuggets, Chicken Strips, Chicken McNuggets®, Masala Wedges, Loaded Masala Wedges, and Veg Pizza McPuff®.
The loaded cheese fries and other light bite favorites are ideal to relish with your friends and family. Take one and keep passing until it is your turn again! It also literally goes well with every situation. When you paint your cheeks with the flag of your favorite team during a match. When it is movie marathon night. When you are having a serious catch-up cum gossip session with your old time buddies. When all your cousins have gathered and every card and board game you know is being played. When you haven't uploaded a cute photo on your social media yet. When you think your meal is kind of bland, a tasty side dish could change the whole game. Or even when you and your homies are simply scrolling through your phones. In each of these moments, the McDonald's light bites come right through!
Feel free to try out the new McSpicy™ Chicken Sharers too. There is one piece of each, and its super spiciness will leave you and your pals speechless for sure!
What is even more incredible is that McDonald's quick bites are part of the Real Food Real Good Menu. They are prepared with absolutely zero artificial flavors, colors, or preservatives. It is yummy, and it is also not bad for your tummy!
The thing is, once you take a bite of a snack, it is almost impossible to stop. So make sure that you are fully stacked with your munchies, like McDonald's loaded fries and nuggets. You can dash into your closest McDonald's restaurant for some light bites. And if you don't want to leave the coziness of your home, order from the McDelivery® app or the McDelivery® website. To avail discounts on your top picks, such as fries loaded with cheese, download the McDonad's app.